The annual growth rate exceeded 300%. Why did Peloton press the accelerator button on the fitness track?
Affected by global health incidents, the offline fitness industry in the United States has suffered a major blow-Gold's Gym, a 55-year-old gym, filed for bankruptcy protection in early May, and a large fitness chain 24 Hour Fitness was taken by an Asian consortium after closing 130 gyms directly operated by the United States IBA acquired.
Under the greater pressure of survival in the fitness industry, an interactive fitness internet company ushered in explosive growth. Since the beginning of this year, Peloton's stock price has risen by as much as 362%, while the Nasdaq Composite Index has risen by about 30.55% during the same period, and its market value has so far approached 38 billion US dollars.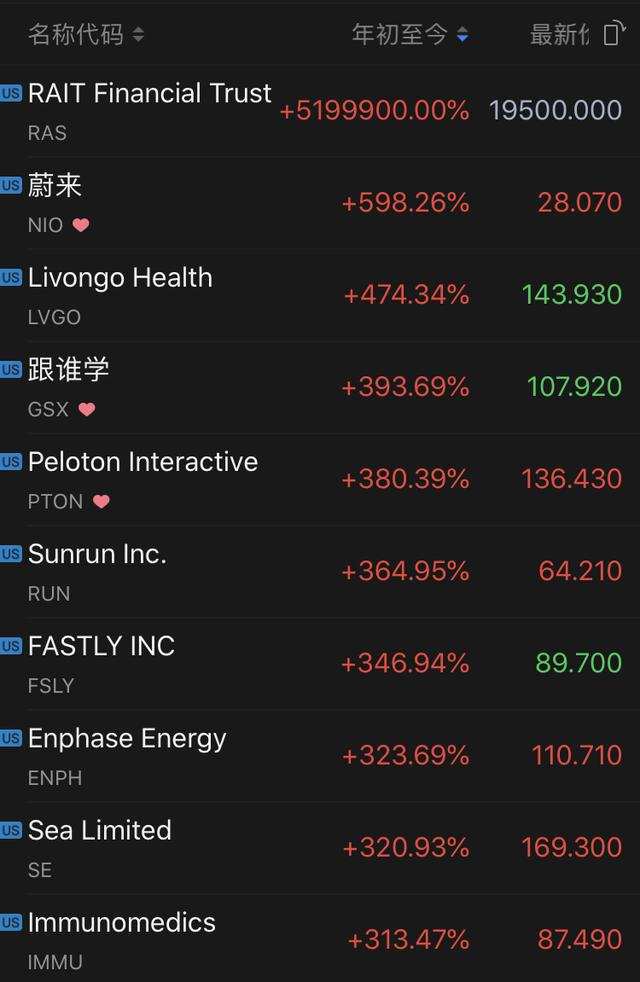 (Source: Futu Niuniu)
However, when it went public at the end of last year, the capital market was not optimistic about this "alternative" fitness track company. However, the recent stock price seems to be "popping" some former bad guys.
After being listed for less than a year, why did Peloton's share price experience such a big increase? Many domestic Internet fitness application products are also constantly developing. Is it possible to produce a domestic version of Peloton in the future?
Known as the "Apple" in the fitness field, Peloton, which has been established for 8 years, is popular with professional fitness
Peloton is an American home fitness company founded in 2012. In the beginning, Peloton's main business was the sale of spinning hardware, and then gradually expanded to the sale of other hardware such as treadmills. With the continuous expansion of scale, Peloton's business has also expanded online, creating online course products including meditation, yoga, exercise classes, etc.
Unlike traditional fitness companies, the exercise bikes and treadmills provided by Peloton are more intelligent, and they can also recommend appropriate online courses based on the user's physical fitness. Thus, a closed loop of user consumption and experience is formed between hardware and software. Therefore, it is also known as the "Apple" in the fitness field.
In August 2018, Peloton completed the F round of financing with a financing scale of approximately US$550 million. This is the largest capital raised by Peloton in several rounds of financing activities. Prior to this, the company also raised approximately US$450 million. In addition, this is also its last financing before going public
In November 2019, Peloton was officially listed on the Nasdaq Stock Exchange in New York, and the initial stock price was about $20. However, the issue broke on the first day of listing, and the day's closing price fell by more than 11%. In the following months, the capital market and investors were not optimistic about Peloton. One proof is that after the release of the 2020 second quarter financial report in February this year, although the revenue exceeded expectations, the company's stock price fell more than 12% in after-hours trading after the financial report was released.
However, life has never lacked drama, and the stock market has never lacked legends. Since the end of April this year, Peloton's stock price has reversed its previous downturn and has begun to show continuous growth. Since the beginning of this year, Peloton's stock price has risen 380%. As of the publication of the American Stock Research Agency, Peloton's closing stock price on Friday was $131.33, with a market value of $37.913 billion.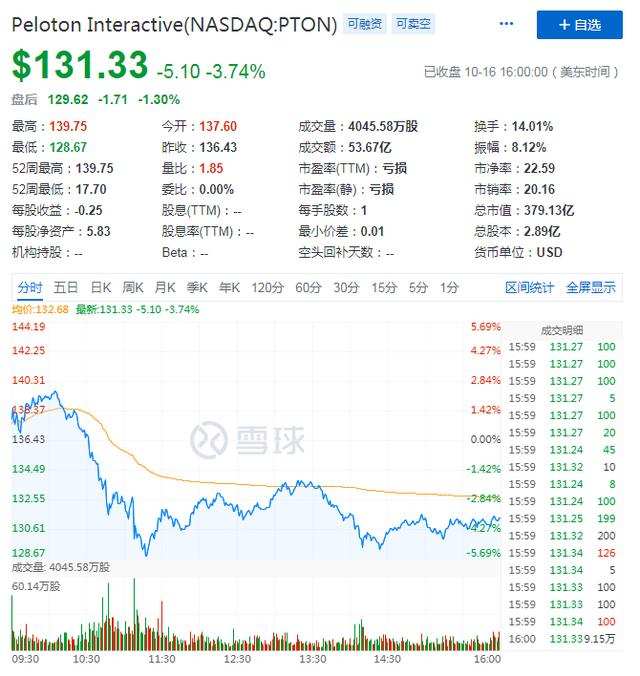 At the beginning of February this year, Peloton co-founder John Foley said in an interview with Yahoo Finance that Peloton is expected to be profitable in 2022. Judging from the current actual situation, the timing of its profit is obviously earlier than the founder's previous estimate. The US Stock Research Agency believes that this may slightly reverse the previous pessimistic views of Peloton investors.
It is undeniable that this year's U.S. stock technology stocks have achieved "greasing" gains, partly because they benefited from the favorable factors of the general environment and the track. But to get bets from investors and the capital market, it must also have a strong hole card. Then, what is Peloton's hole card?
The stock price has soared by more than 300%. What "tonic" did Peloton take?
Listed on the first day of break, the beginning of earnings shares fell, but why in just a few months time after which the share price rose more than 300%, far outperforming the Nasdaq composite index, a throw off all the United States State Science and Technology Unit Stock price increase. Through the analysis of Peloton and the industry as a whole, the US Stock Research Agency summarized the following points:
1. Global health incidents have brought a greater impact to the offline fitness industry in the United States, but online fitness has unexpectedly benefited. According to the latest International Federation of Health, Sports and Clubs (IHRSA) data, as of September 1, 2020, the number of fitness venues in the United States that have been forced to close permanently due to the impact of the new crown epidemic has reached 2,616, and the United States fitness industry has lost cumulative income Has exceeded 13.9 billion US dollars. Offline fitness venues were affected and forced to close, but fitness needs always existed. Peloton, which was previously not favored by the outside world, became a good option at this time.
Peloton's official data shows that the total training record of the platform in the fourth quarter is close to 77 million times. On average, every online fitness subscription user takes 25 exercises every month. The demand for offline gyms has been shifted to closed spaces that rely on families. The growth in demand for online fitness course guidance and home fitness equipment has directly driven the rise of Peloton's stock price in the past few months.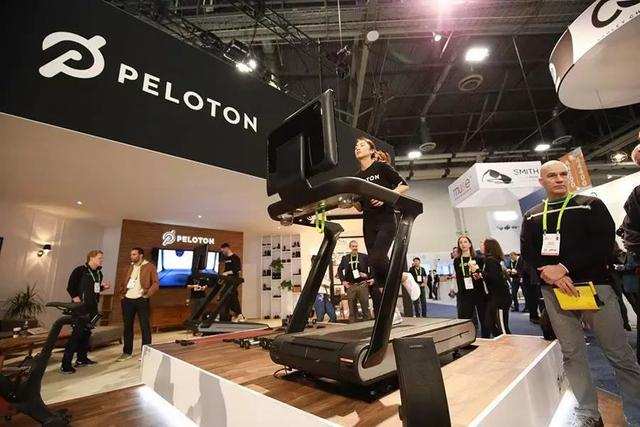 It is also not to be ignored that the previously affected offline fitness venues are gradually resuming business. Whether this will have an impact on the current number of Peloton users and divert some registered users is still unknown. However, after this health incident, a number of offline fitness companies in the United States declared bankruptcy. Even if offline venues resume operations, it will reduce the number of options available to users and reduce Peloton's offline competitors. This is important for Peloton's offline business expansion. In terms of it, it may be good news.

Two, Peloton has been China announced it as an Internet one of the reasons social media network company, its business model is also subscribe to its share price rising.
The biggest feature of its operating model is the combination of Internet play and traditional fitness industry. Peloton pays special attention to the creation of user communities, where users can communicate in their communities to form stickiness to the brand. In addition, Peloton is also building a platform business model with a strong network effect. The company has attracted the best fitness coaches in the United States through high salaries, and these high-quality coaches have also led to a surge in membership.
As of September, its fitness subscription users exceeded 1.09 million, an increase of 113% over the same period last year. The stickiness of paying users has also been improved. The average monthly user churn rate in the third quarter fell to the lowest level of the company in four years-0.46%, and the 12-month user retention rate reached 93%. The increase in the number of users will undoubtedly drive the growth of Peloton's revenue.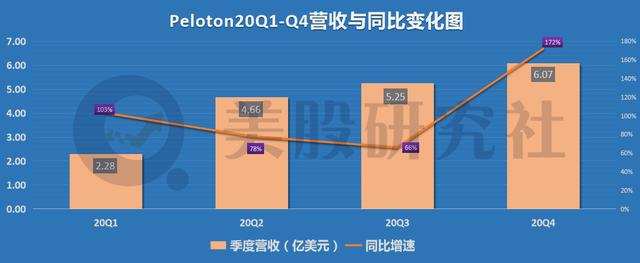 However, Peloton has quite a few competitors on the track of transforming the traditional fitness industry with Internet companies. Hydrow, established in 2017, received US$20 million in Series A financing in February this year; Tonal, established in 2015, received US$45 million in Series C financing in April this year; AI smart fitness coaching platform myShape was established in 2016 and has also received 30 million US dollars in financing.
In addition to competition from vertical track companies, technology giants are also targeting this area and are launching an offensive. The most noteworthy opponent is Apple. In September, Apple released a brand new fitness service product called Apple fitness+. This is believed by the industry that Apple will challenge fitness giant Peloton. Apple Fitness+ is an important part of Apple's long-term plan for Apple Watch. It can attract users and shoulder Apple's important task of extending fitness products from software to hardware to the closed loop of the entire fitness system.
Compared with Peloton, Apple has many advantages. The greater number of users and the linkage effect formed by a variety of products are 29 US dollars lower than Peloton's monthly subscription price. It is undeniable that even if Apple has the above advantages, it takes time to develop and cultivate users, especially in unfamiliar areas; and it is difficult to change the consumption habits of fixed consumers once they are formed. The results of the competition between Apple and Peloton in North America are unknown, and the competitive landscape of the domestic sports fitness technology market is also taking shape.
The healthy track gets wider and wider, but the road to realization gets narrower and narrower. When will the domestic version of Peloton be born?
With the continuous improvement of domestic income and consumption levels, as well as the gradual emphasis on health by the people, China's fitness industry is also in a state of continuous development. In 2018, the scale of China's commercial fitness market reached 98.3 billion, with a compound annual growth rate of over 12%, and in 2019 it has exceeded the 100 billion mark.
Judging from the penetration of the Internet into the fitness industry, as of February 2020, the number of active users in the sports fitness App industry has risen to 89.28 million, a year-on-year increase of 93.3%. In the first half of 2020 alone, the financing scale of sports and fitness companies has exceeded US$3 billion.
Among the many domestic sports and fitness apps, Keep has a certain advantage in the number of users. It is more than up consulting data show that in June 2020, Keep ahead to 2023.9 million active users; Yue ring ranked second with 957.6 million active users; third movement as millet, live monthly number of users is 7.06 million.
In June, Keep received 80 million US dollars to complete the E round of financing. Industry insiders predict that Keep may become the first domestic sports technology company to be listed. Against Peloton, where is the gap between Keep and it?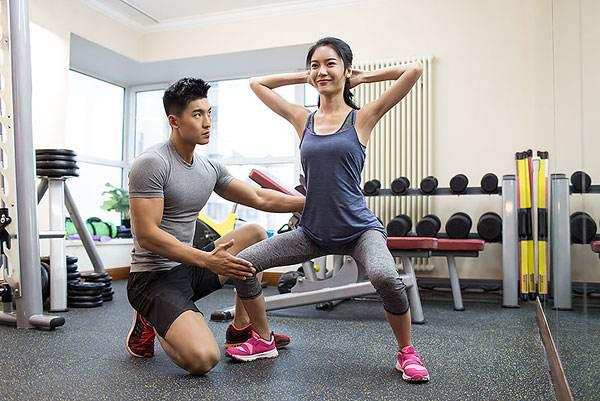 First, online and offline linkage. If Keep started with online business, if it only focuses on online, it cannot reach users to the maximum. While continuing to develop online business, it should also open offline fitness venues and provide offline course services to form an online and offline linkage effect.
Part of the reason is that there is still a big gap between the basic fitness and even fitness penetration rate of the Chinese people and the United States. Statistics show that the number of gyms in the United States is 10 times that of domestic gyms. With the total population nearly five times lower than that of China, the population of American fitness is approaching 80 million, which is more than 30 times that of China.
According to data from the American Fitness Association IHRSA, in 2018, there were 3.7 million regular exercisers in China, with a penetration rate of 0.8%. This figure is much lower than the average of 3.84% in the Asia-Pacific region. And only after having a huge fitness population base offline can the development of online business have a better foundation.
Second, the extension of the industrial chain. Nowadays, content aggregation is no longer a threshold. There are many free videos on sites such as station B and YouTube that share traffic. Only by building the entire industrial chain based on the main core products and extending the business antennae can better performance growth be achieved.
In fact, Keep has worked hard to extend the industry chain, including sales of fitness equipment, online fitness courses, etc., which are basically in line with Peloton's business. But the revenue growth it can drive varies greatly. The US Stock Research Agency believes that there are two main reasons: first, compared with North America, the domestic awareness of paying is not high, and many people still subconsciously believe that things on the Internet should be free, including courses; second, compared with Peloton , There is still a big difference in the operation of the user group. In the community promotion and marketing, Keep still lags behind Peloton.
Because the environment is different from Peloton, it is determined that Keep needs to formulate development strategies based on specific conditions. Even if Keep can successfully go public, there will be many differences between it and Peloton in terms of specific business lines and revenue structure. The US Stock Research Agency will also continue to pay attention to such sports and fitness technology companies that have caused industry changes.