Turning crises into opportunities, this AIoT company leverages the big market at a small cost
Get link

Facebook

Twitter

Pinterest

Email

Other Apps
AIoT (Intelligent Internet of Things) is no longer a new term.
Smart devices rooted in the physical world seem to be closer to the C-end than the Internet, but they also bring more challenges "physical environment and terminal diversification; products are non-standard and difficult to replicate; deployment and maintenance costs are uncontrollable...
How to ensure the good operation of terminal equipment in a scattered and changeable environment? How to reduce the company's excessive investment in service and maintenance? How to move from product availability to large-scale replication? These are the common difficulties faced by the AIoT track.
Zhidian Intelligence , this AIoT company established in 2017, started from the small point of "retail and payment system reform", and through clear productization ideas, is leveraging a market of tens of millions.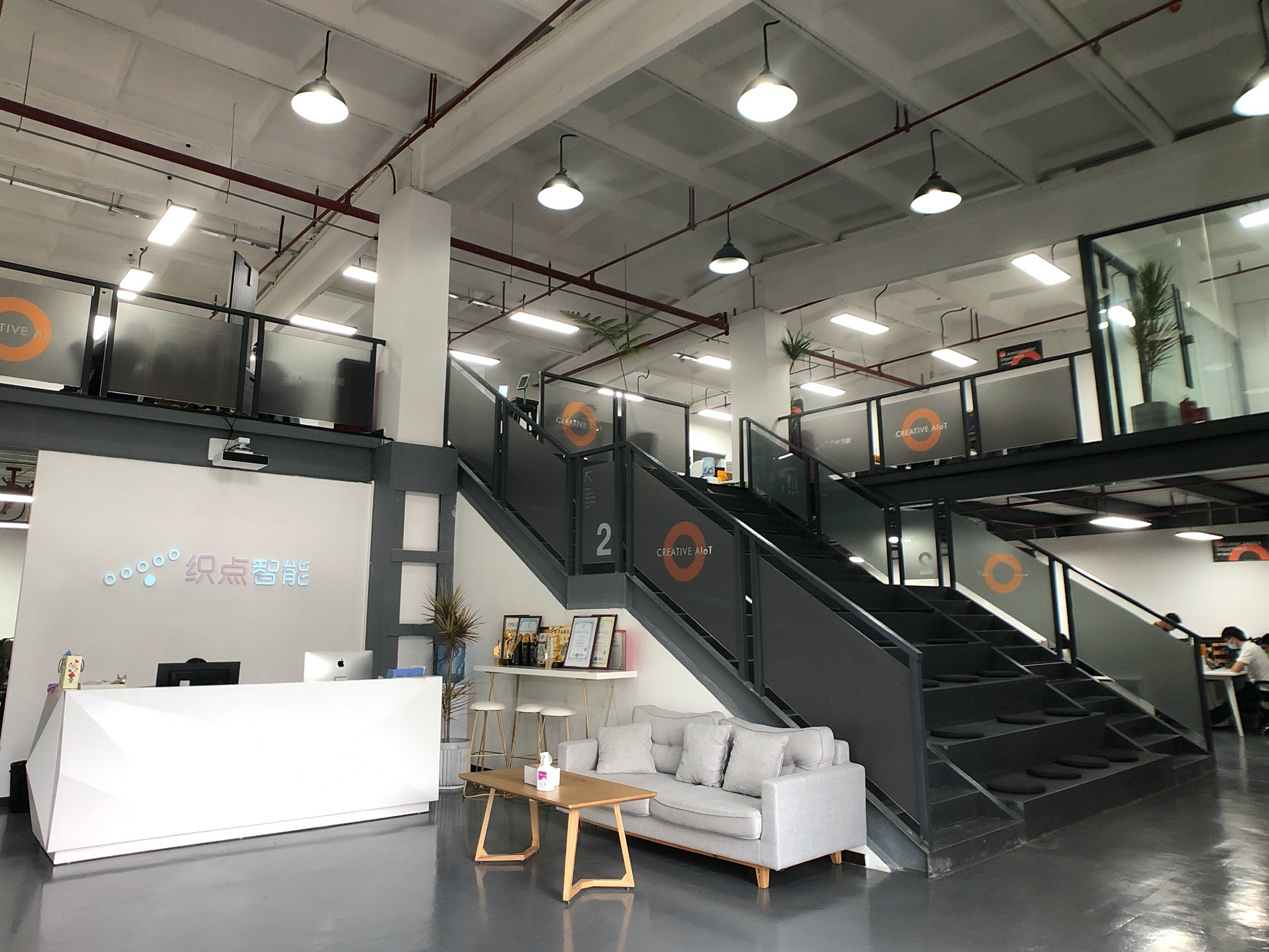 Weave some intelligence: light up life with AIoT
Section 1: New variables, new responses
For business owners in the physical consumer retail industry, "digitalization" has never been more urgent than this year.
Offline businesses were almost shut down due to the impact of the epidemic, ranging from restaurants downstairs to large chain supermarkets and catering companies, without exception. According to the data on retail sales of consumer goods for the first quarter of 2020 released by the National Bureau of Statistics, the total retail sales of consumer goods from January to March was 7,858 billion yuan, a year-on-year decrease of 19.0%. The national online retail sales amounted to 2.2169 trillion yuan, a year-on-year decrease of only 0.8%. Among them, the online retail sales of physical goods was 1,853.6 billion yuan, an increase of 5.9%, accounting for 23.6% of the total retail sales of consumer goods.
In such an environment, digital tools represented by self-service barcode scanning, face payment, advertising carousel and intelligent analysis can help merchants earn the most benefits in the shortest time, with the lowest cost. Therefore, the rapid completion of digitization has become the best choice for merchants at the moment.
However, digitization is not an easy task-companies that have grown up in the traditional retail chain environment are relatively lacking in Internet thinking and new retail gameplay. Especially for some mom-and-pop shop owners, it seems that they can't even touch the digital "door".
Therefore, some digital tools that are simple to operate and can be used out of the box will be more easily accepted by the majority of merchants. This means that for some companies that serve the digital transformation of consumer scenarios with low barriers to use, wide coverage, and high functional fit, it may be an opportunity to headwind.
Zhidian Intelligence seized this opportunity, actively responded to the market situation, and made new changes with new variables. These new products and applications are making a splash.
Among them, the most difficult technically and commercially is that Zhidian Intelligence has covered the field of smart medical care in 2 months and completed the exploration of the government's medical insurance ecology.
After the epidemic, "Internet + medical" continued to usher in continuous policy encouragement. Intelligent technology represented by face recognition was vigorously promoted by the state and applied to the digital and intelligent upgrade of medical insurance and medical fields. Zhidian intelligently responded to the policy call, and its smart terminal products have successively launched medical insurance versions, small-screen smart payment terminals CM07-Y, CM09-Y and large-screen self-service smart terminal FaceScreen (CL07). In addition to face recognition payment capabilities, new Increase the function of medical insurance payment. As patients' trust and demand for online consultation have increased significantly after the epidemic, the medical insurance version of the three terminal series can realize the "remote consultation" functional experience, assisting the pharmacy scene to complete more convenient health services; With a 3D structured light living body recognition camera, patients can also conduct remote consultations with qualified physicians in the form of video in pharmacies, purchase medicines in compliance with doctors' recommendations and prescriptions, and complete payment through medical insurance.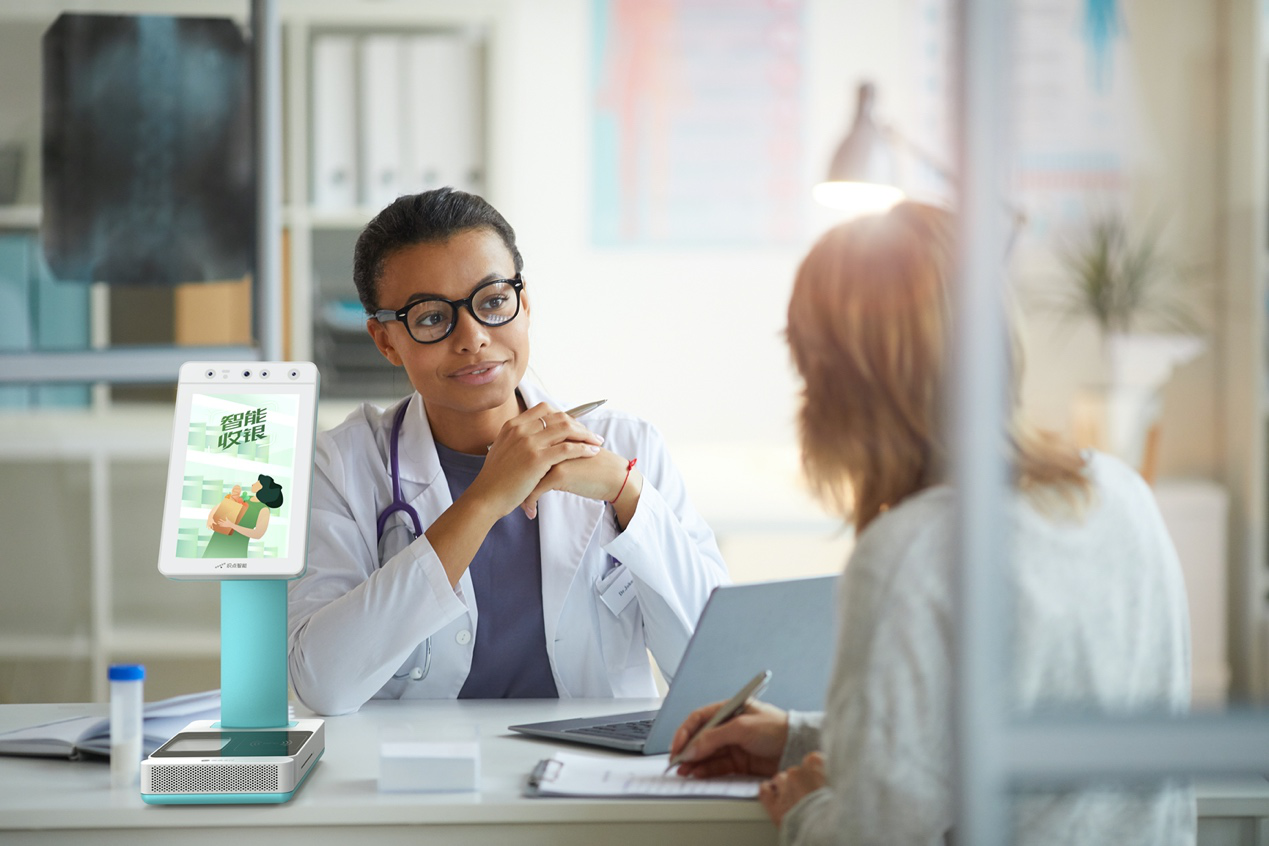 CM07 Medical Edition: Face recognition ability to get through medical insurance recognition + ID card recognition + self-service card swiping
At that time, some companies of the same type were following up the research and development of the medical insurance business, but most of them yielded mediocre results. Because the linkage with the national medical insurance system requires certain thresholds, such as whether the relevant financial equipment terminal has been done before, and whether it has been certified by the country. After all, for the buyers of these "medical insurance" facial brushing devices-local governments and hospitals, they are relatively less sensitive to costs. "What they really care about is the maturity of the technology and compliance with specifications", Liang Hanjun, CEO of Zhidian Intelligent, explained to 36kr Tao.
However, the technical capabilities of the enterprise, the understanding of the relevant certification and the achievement of the norms and standards are not achieved overnight. Therefore, in Liang Hanjun's view, " accumulation is the moat", and it is precisely because of sufficient accumulation that the weaving point intelligence can be established to reach the prototype. The entire process only took less than two months.
In addition to exploring new areas, after gaining insight into the pain points of the industry, Zhidian is still trying to provide more cost-optimized solutions.
When doing product promotion, weaving points, local channel providers or operators, and WeChat will all bear part of the cost. In this way, the purchase price that is finally implemented in the store is very low, or even none. This is of great help to many small shops with weak anti-risk capabilities.
It can be seen that in the face of market shocks, Zhidian Smart reacts very quickly, turning the stumbling block that was not conducive to itself into a stepping stone for upward development.
Section 2: Small cost, big model
What does the organization rely on to find new opportunities in new variables?
Looking back at the time, Liang Hanjun, CEO of Zhidian Intelligence, believes that the reason why they can turn crises into opportunities is inseparable from the business foresight of Zhidian Intelligence.
But if you want to be forward-looking, you must have enough focus-insist on accumulating industry-leading self-developed technology, and insist on exploring the product vitality of large models at low cost.
As an AIoT company, Zhidian Smart started by relying on its overall face recognition and product recognition algorithm capabilities from front to back. "After all, in the entire industry, these algorithm resources are mainly concentrated in the hands of big manufacturers such as BAT." Liang Hanjun realized early that if the algorithm is not in his own hands, not only will the future development cost become higher, but also the development opportunity will be lost. imagination.
Since then, core AIoT technologies such as gravity sensing, body recognition, pedestrian trajectory tracking, and AI smart payment have also been gradually developed and successfully integrated into the product matrix of Zhidian.
Zhidian Intelligence relies on more and more self-developed technologies like snowballs to continuously expand its advantages in the industry. Based on the accumulated self-developed technology, Zhidian Intelligence insists on walking on "two legs"—not a pure hardware company, or a pure AI algorithm company, or SaaS company, Zhidian provides a total solution , Self-developed hardware and software capabilities with complete intellectual property rights are included.
In this way, Zhidian Intelligence can develop different solutions to meet different customers and different needs.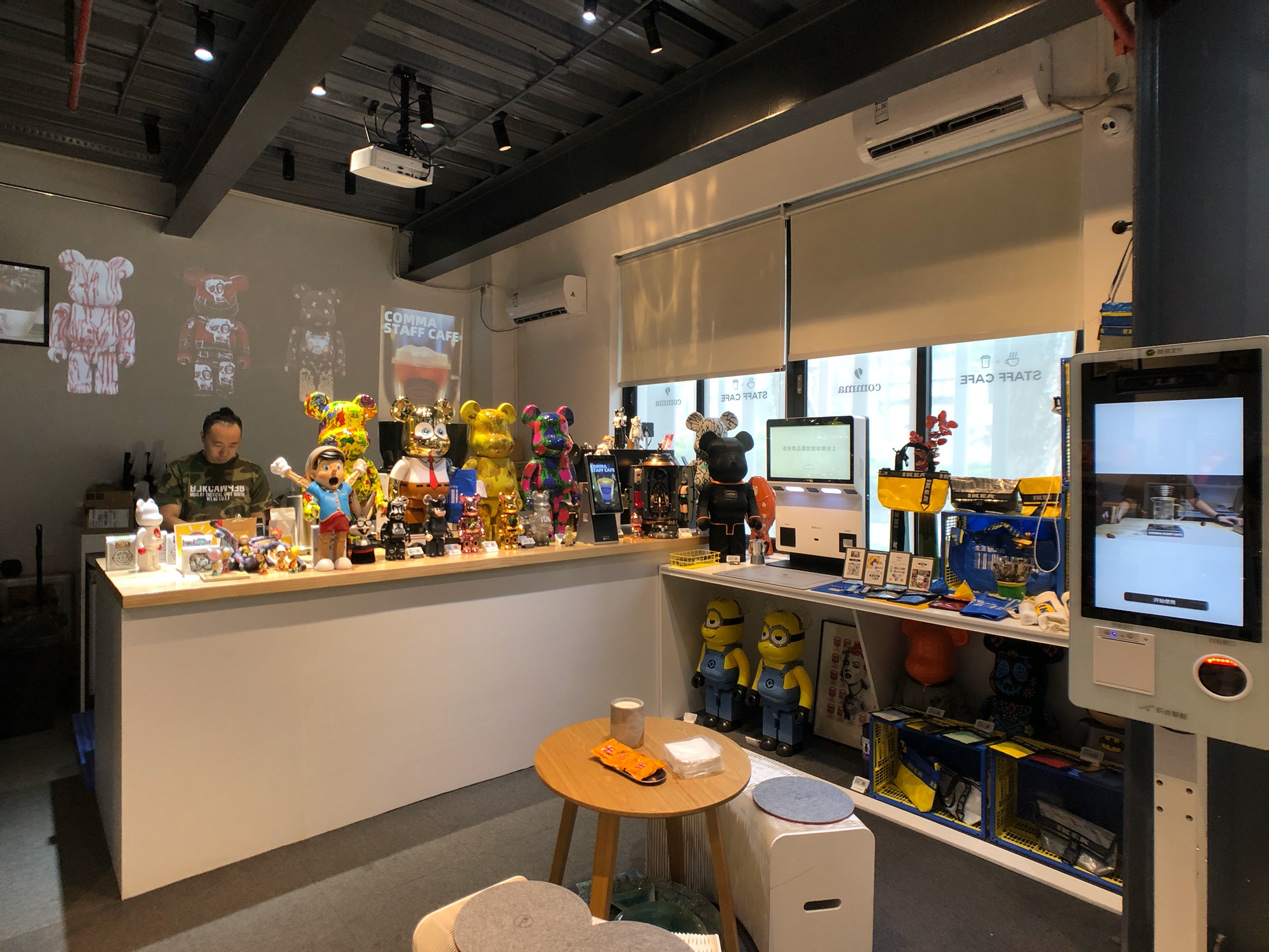 Zhidian Seed Experimental Store Landed on Multiple Intelligent Terminals
In terms of smart hardware, in addition to the representative smart payment terminals of Zhidian, there are also products such as smart shopping carts, smart access control, and smart dual-screen transaction terminals; at the software level, Zhidian provides enterprise-level SaaS system services, using smart terminals as the carrier , Connect payment, marketing, finance and other merchant services at the bottom layer, and provide one-stop business support services for many merchants, especially small and medium-sized merchants.
The cross-combination of different software and hardware releases the effect of "1+1>2", helping merchants to digitally transform and realize smart operation.
It is also precisely because of the "two-legged" strategy of weaving point that the cost of its solution is not high, no matter from the point of view of research and development of weaving point, or from the perspective of direct users and buyers.
First, because Zhidian has self-developed visual recognition, intelligent hardware and other technical strengths , its cost of product development will be lower than other manufacturers in the same industry; secondly, software services exist in the form of SaaS, which means big Part of the software capabilities can be reused; finally, Zhidian Intelligence has focused on the AIoT field for many years, and its supply chain capabilities are more mature than other manufacturers. Even Zhidian has set up a supply chain management department to control costs.
With various efforts, weaving point intelligence can realize the exploration of large models at a small cost.
Section 3: Small cuts, big future
For the future development, Liang Hanjun, CEO of Zhidian Intelligence, is full of confidence: "We are already the leader in the industry, and hope that by the end of this year, we can reach a market share of 15%-20% in our active ecosystem."
As for how to do it, Zhidian Intelligence has already clarified several directions:
First of all, the adjustment of product strategy has evolved from a single hardware terminal solution capability to an overall solution that can deliver to the industry.
Liang Hanjun said that the hardware product line of Zhidian has been relatively mature, and the focus is on stabilizing the relevant market share; providing software and hardware integrated solutions will be a new growth point. It is important to promote it and stick to the "AIoT "strategy.
Second, we must pay attention to accompany merchants to make progress, especially small and medium-sized merchants with great potential for future development.
Large supermarket chains often have a strong digital foundation, and most of them already have their own systems. As a result, a lot of their information and data have been deposited in the system, so it is extremely difficult to replace them.
And in Liang Hanjun's view, "the number of entrepreneurs will gradually increase after the epidemic, and most of them will become small and medium-sized businesses." Don't underestimate these small and medium-sized merchants. According to the 2018 data of the China Tobacco Industry Association, there are a total of 5 million small supermarkets, department stores, convenience stores, grocery stores, commissaries and other shops selling daily necessities in China. Now that they have a weak digital foundation, their base is still growing. The weaving point is an incremental market with huge market space and still growing.
To serve small and medium-sized merchants well, the most important thing is to grasp their pain points—the budget is small, the digital foundation is weak or not, and it is difficult to accept new technologies. And Zhidian smart products, especially the CM series, are very difficult to use and can be used out of the box; a set of products can satisfy multiple functions such as payment, analysis, and promotion; and as Liang Hanjun said, The price is lower than that of smartphones." These advantages make Zhidian more competitive in front of small and medium businesses.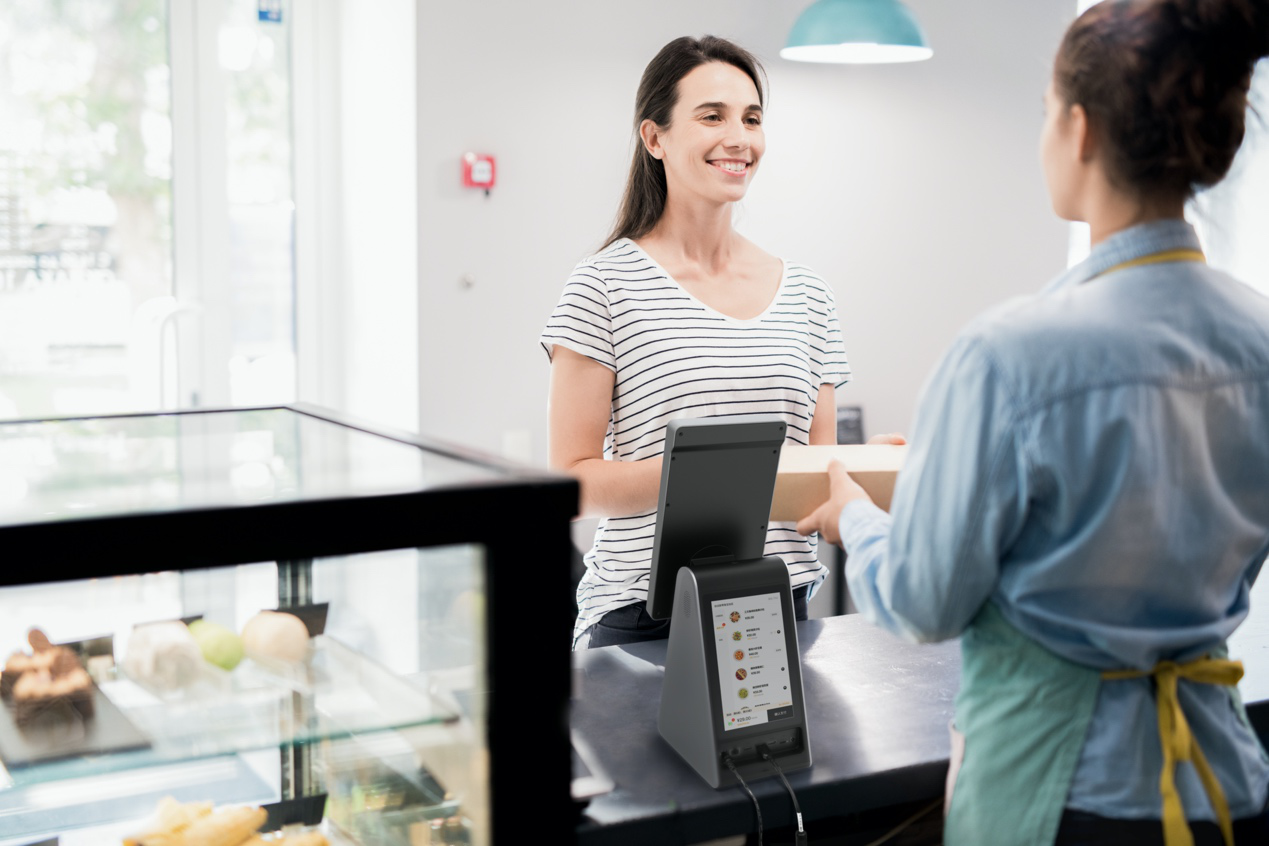 Double screen cash register CM01-D independently developed by Zhidian Intelligent
Third, insist on rapid iteration.
At present, giants and many small and medium-sized technology companies are exploring payment scenarios, which makes the update and iteration pace of the entire market become fast. Liang Hanjun used the POS machine market as an analogy: "For example, the earliest facial payment products were only used as a supplement to POS machines, but now many people are trying to use it to iterate existing POS machines. " Therefore, only faster than the market's update rhythm In order to have greater imagination and stronger initiative.
It is easy to enter from a small incision, but it is not easy to move a big market. The focus and persistence of Zhidian Intelligence has not only made itself, but also made merchants, and promoted the progress of the entire industry.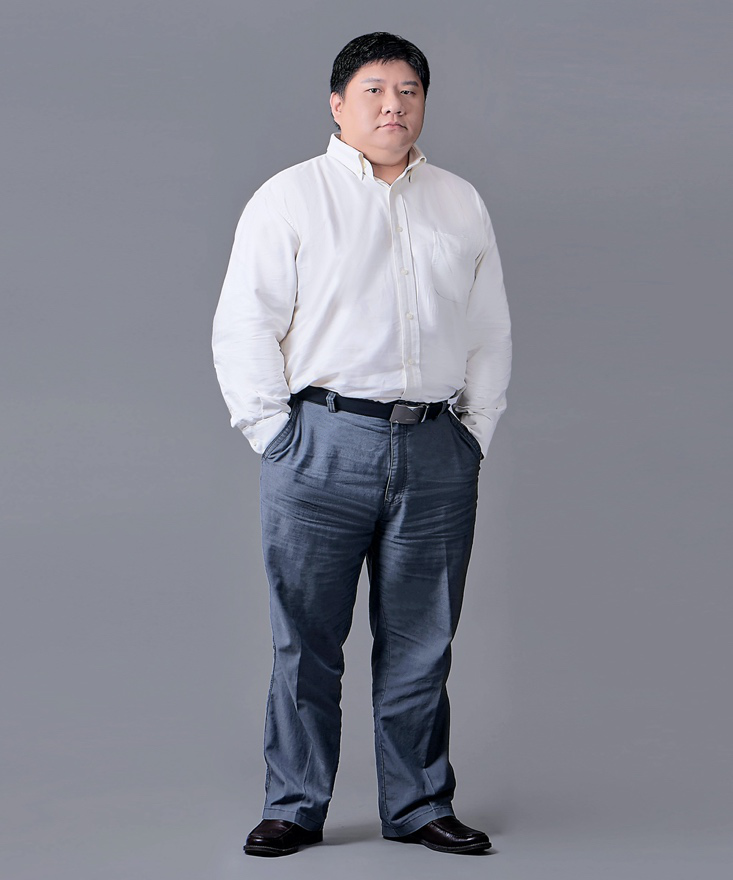 Liang Hanjun, CEO of Zhidian Intelligence
Speaking of the future, Liang Hanjun believes that Zhidian Intelligence will continue to rely on its own technical capabilities in the field of image recognition and artificial intelligence, give full play to the advantages of its two major product lines, hardware and software, and use the deep integration of high-end manufacturing and intelligent services as a breakthrough to provide merchants with The overall solution from payment terminals to value-added services helps to promote the digital upgrade of a wider and richer consumption scene.
It is precisely because of the efforts of these dedicated companies that we are getting closer and closer to digitalization.
Get link

Facebook

Twitter

Pinterest

Email

Other Apps