Zoom takes the next step
Some time ago, I mentioned the possible development path of Zoom in the article " The Future of Zoom ".
At that time, I thought that Zoom's first phase goal: "becoming the Gmail of video conferencing" has basically been achieved.
Next, Zoom may become the future of the office, or an indispensable part of the future office, and become the center of everyone's online work, life, and learning in the future. It can focus on everything from text chat to large-scale virtual events.
Today, Zoom officially took this step. It not only launched an online activity platform onzoom, but also launched a product Zapps that integrates a large number of third-party apps (especially collaborative office), making the online office experience smoother.
Onzoom can be said to be a completely online event platform, providing full-process management from event information release to online ticket sales, online event participation, and post-event review. It allows the organizer to hold a one-time event or a series of events, which can accommodate up to 100 or 1,000 people, and sell tickets for them.
Anyone can initiate an event or online course on it, which can be set to sell tickets for free or paid, and even provide non-profit organizations with the ability to accept donations through events.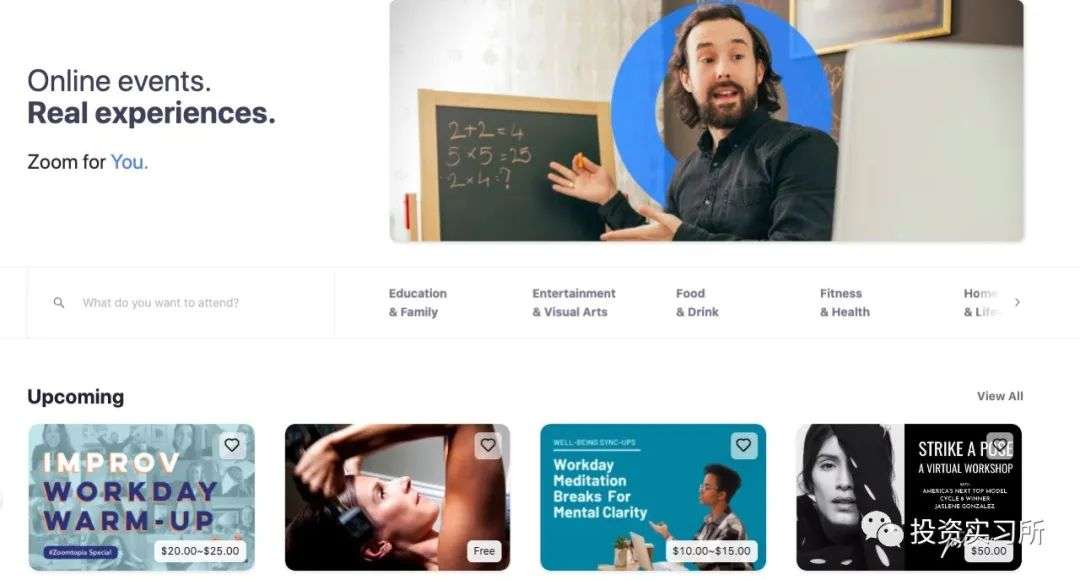 At present, most of the courses and activities that can be seen on the platform are fitness or education courses, as well as some activities. In addition to the classification of some categories, it also provides a list of the most popular activities for users. It can be seen that it wants to build itself into a completely online virtual activity platform community.
In this area, several startups have already received a lot of money some time ago, including Run The World jointly invested by a16z, Founders Fund and Jinshajiang , Bevy and Hopin invested by Accel, and Eventmaker in France.
Among them, Run The World took 4.3 million U.S. dollars from a16z in the seed round, and soon took another 10.8 million U.S. dollars from three joint investment round A. Bevy took Accel 6.4 million dollars in A round and another 15 million dollars in B round.
Now that Zoom has entered the game, the competition in this area has obviously become more intense, but there are still certain differences in their respective target markets, and the future market space is large enough and there are many areas that can be expanded, so there should still be a great opportunity.
The product of Zapps, I think, makes Zoom a real step forward towards the future online virtual office center, because it integrates various mainstream collaborative office products and tools, including Asana, Confluence, Dropbox, Trello, Slack, Salesforce 35 products such as, Notion, etc., which can be used directly in Zoom video.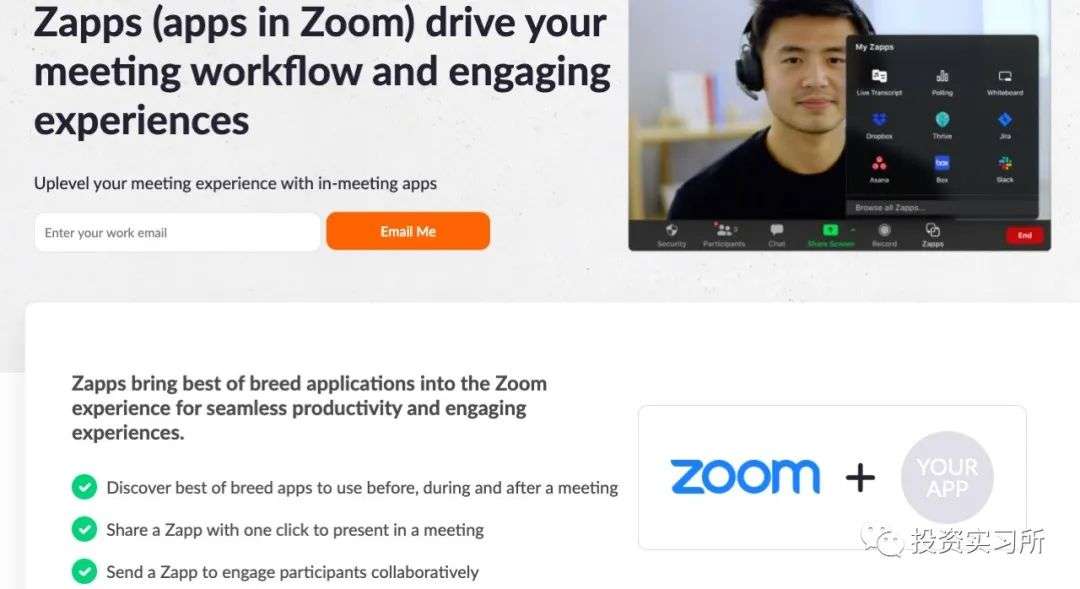 And Zapps seamlessly integrates the entire process of video conferencing and the use of these products. You don't need to open each product separately when you use it, and you don't need to switch between products as before.
The product Zapps can be understood as Zoom's AppStore. You can directly call the product you need to use during the online office process. This greatly expands the use density and scenarios of Zoom, and transforms yourself from a product into a product. It has become a platform, and has become the absolute central C-bit of the online office scene, and other products have become an App in its AppStore.
Due to this integration, video conferencing when everyone is working collaboratively has become an experience similar to face-to-face meetings in offline offices. If the experience is better in the future, it is conceivable that many requirements in traditional offline office scenarios may become more no need.
For Zapps, the comments on Twitter are also very optimistic. Some people even think that the future of business will have the opportunity to be completely based on the ecology of Zoom.

With the addition of Onzoom as an activity platform, Zoom is moving faster and faster towards becoming the center of everyone's online work, life, and learning in the future.
If this step is successful, then Zoom may be completely on a new level. As Yuan Zheng said, as the trend of remote work accelerates during the epidemic, institutions and organizations are no longer limited to solving immediate business continuity needs, but are actively redefining and adopting new methods to support anywhere The future of working, studying anywhere and connecting anywhere.