China stocks selection of the week: the strongest king of new energy vehicles, double eleven is coming soon e-commerce
1. Review of the performance of the concept stock market during the week
1.1 Overall performance of China Concept Stock Equal Weight Index
Since January 1, 2015, the China Concept Stocks Equal Weight Index has risen by 289.79%, outperforming the S&P 500, with a relative return of 219.34%.
Note: The constituent stocks of the China Concept Stocks Equal Weight Index include 59 companies that have constructed a portfolio of equal weight Chinese concept stocks, and select China concept stocks with a market value of more than 1 billion US dollars (excluding the stocks of state-owned enterprises listed in many places), and adjust it every six months.
Since the beginning of this year, the China Concept Stock Index has risen by 38.70%, and this week the index has risen by 5.79%.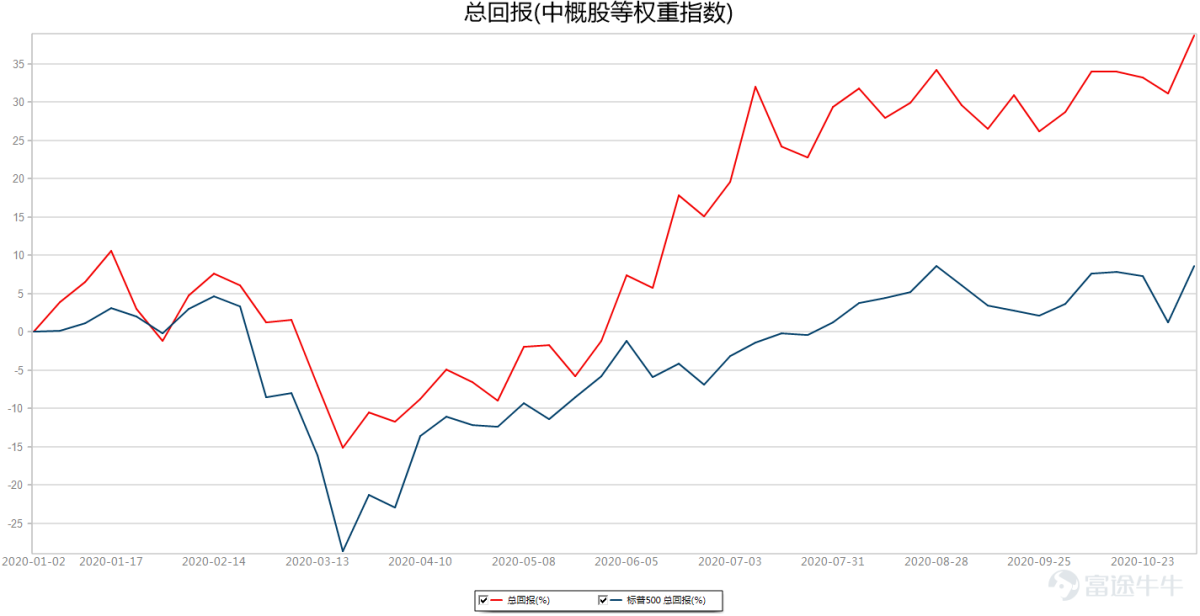 Popular China Approximately this week: the new energy vehicle sector is undoubtedly the strongest king, Weilai (NIO.N) rose 36.13%, Xiaopeng Motors (XPEV.N) rose more than 60%, and ideal car (LI.O) although Friday Affected by product recalls, the weekly increase was close to 30%; the e-commerce sector also performed strongly with the arrival of Double Eleven, with Pinduoduo rising 27.28% this week, Baozun e-commerce rising 15.42%, and JD rising 13.46%; cloud computing-related Jinshan Yun (KC.O) rose 33.05%, GDS (GDS.O) rose 17.82%; Hong Kong stocks investment platform rich way Holdings (FUTU.O) performance is equally impressive, rose to 16.85%.
1.2 Chinese concept stocks rose TOP10

1. Weilai has become the biggest potential winner among Chinese electric car manufacturers, with a market value exceeding Ford and GM
The market value of Weilai is approximately US$56 billion, surpassing the market value of Ford Motor (US$30.9 billion), Ferrari (US$51.6 billion), General Motors (US$53.6 billion), and Honda Motor (US$45.5 billion). A number of new energy vehicle brands recently announced a record high in October sales. Among them, Weilai delivered a total of 5,055 new vehicles in October, a year-on-year increase of over 100%.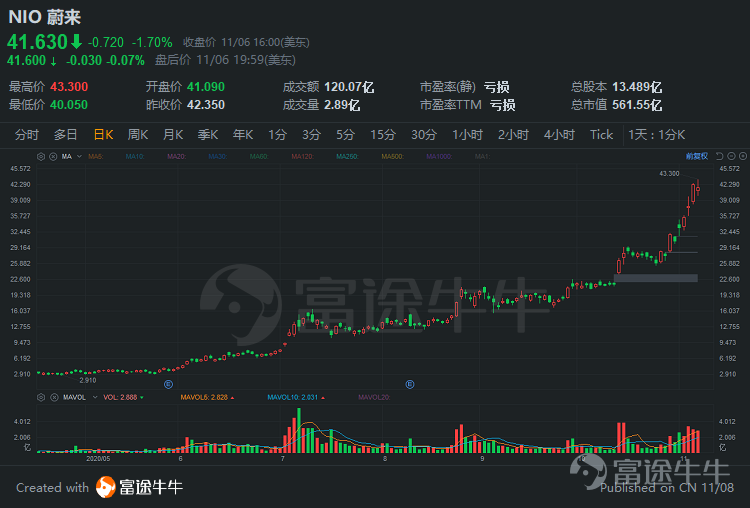 Citi analyst Jeff Chung sharply raised Weilai's target price from $33.20 by 40% to $46.4, and reiterated its buy rating. With the development of the electric vehicle industry, the company's growth prospects will be brighter. Chung's initial rating for Xiaopeng Motors is Buy, and the initial rating for Ideal Motors is Neutral, and its target prices for Xiaopeng Motors and Ideal Motors are US$34.7 and US$27.1, respectively.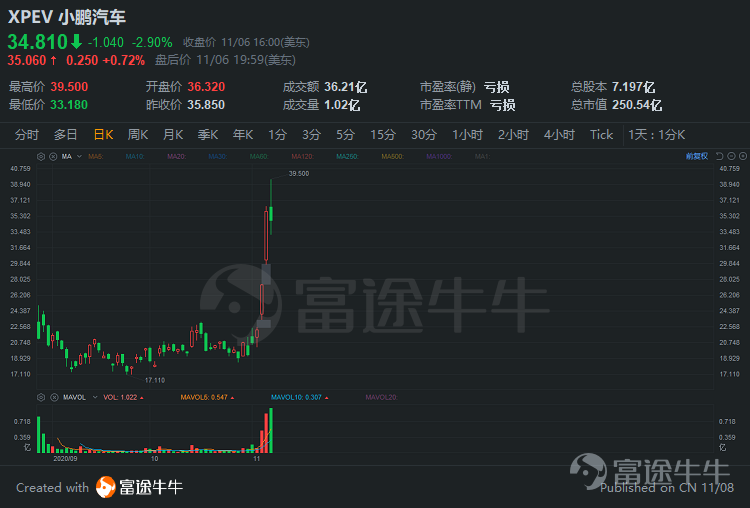 2. Goldman Sachs: Pinduoduo Q3 GMV is expected to be better than expected, upgrade the rating to BUY
Goldman Sachs' latest report upgraded Pinduoduo's rating from "Neutral" to "Buy" with a target price of US$123. Goldman Sachs predicts that Pinduoduo's GMV (total turnover) in the third quarter of this year will reach 421 billion yuan, a year-on-year increase of 69%, which is 12% higher than market expectations. In the third quarter, monthly active users will pass the 700 million mark for the first time, increasing to 718 million, further narrowing the gap with Alibaba .
3. Morgan Stanley: reiterate JD's rating of "overweight" and set a target price of US$92
Morgan Stanley issued a research report, pointing out that market reports show that online daily necessities spending on average can reach HK$6,500 per year, while annual spending in first- and second-tier cities is expected to be even higher. Although JD's users are relatively small, it is well-known in first- and second-tier cities. With JD's leading position in this field and good user experience, it is believed that the favorable online shopping trend of daily necessities will expand its customer base and ARPU.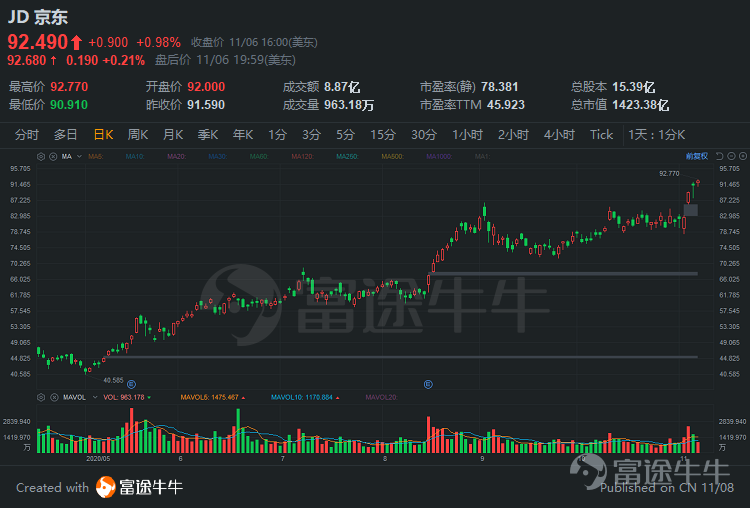 The bank reiterated its positive view on JD.com, saying that the company is the bank's first choice in China's e-commerce sector. It reiterated its rating of "overweight" and set a target price of US$92. The strong growth in the four seasons, coupled with its good positioning in the online commodity market, is one of the main drivers of e-commerce growth.
1.3 Top 10 Chinese concept stocks fell

1. The impact of multiple bad news, eggshell apartments continue to fall
On October 20, Eggshell Apartments announced that its chief operating officer, Gu Guodong, had recently resigned, which was only 16 months after he joined Eggshell.
Throughout the listing of eggshells, on the one hand, the company has not been out of the quagmire of losses. Since 2017, the cumulative net profit of Eggshell Apartments has exceeded RMB 6.3 billion. On the other hand, the company is plagued by negative news. From layoffs in disguise on the Internet, to routine landlords, to the CEO's investigation, to the closure of the Internet company, to run away, and to the resignation of executives, bad news frequently appeared.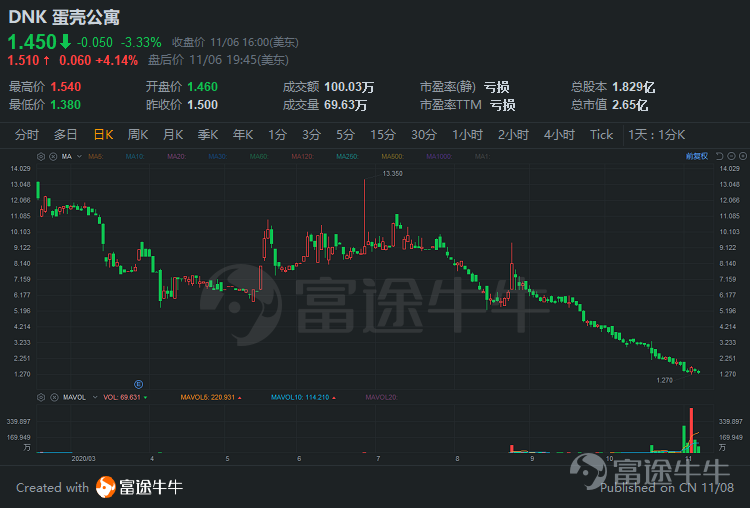 Under a number of negative impacts, Eggshell Apartments was left out in the secondary market by investors. Since the beginning of the year, the share price of Eggshell Apartments has fallen from a high of $13.9 to a minimum of $1.27, a drop of over 80%. The latest closing price is $1.45 per share.
2. Company news in key industries
1. The listing of Ant was suspended, and Ali released Q3 results
On the evening of November 3, the Shanghai Stock Exchange issued a decision to suspend the listing of Alibaba's Ant Group Science and Technology Innovation Board. The Shanghai Stock Exchange announced that: the company has also reported major issues such as changes in the financial technology regulatory environment in which it is located, which may cause the company to fail to meet the issuance and listing conditions or information disclosure requirements. Subsequently, the Hong Kong Stock Exchange announced that the listing of Ant Technology Group's H shares on the main board of The Stock Exchange of Hong Kong Limited will also be suspended. Ant Group stated that it will announce further details on the suspension of H-share listing and the refund of application monies as soon as possible.
On November 5th, Alibaba announced its 2020 Q3 (corresponding to fiscal year 2021 Q2) results before the U.S. stock market. The data showed that the revenue of the second fiscal quarter was 155.06 billion yuan, a year-on-year increase of 30%; annual active consumers were 757 million, compared with Last quarter increased by 15 million; in September 2020, mobile monthly active users were 881 million, an increase of 7 million from June, which was less than the market estimate of 899 million; adjusted net profit was RMB 47.09 billion, a year-on-year increase of 44%; adjusted per ADS Revenue was RMB 17.97; revenue from cloud business was RMB 14.9 billion, a year-on-year increase of 60%.
2. Many Chinese video stocks plummeted because Kuaishou applied for IPO
The evening of November 5, iQIYI , beep beep Mile Mile and a number of video in almost stocks fell, which the former night the biggest decline in more than 5%, which is the biggest decline in more than 6%.
The reason is that Kuaishou Technology formally submitted an initial public offering (IPO) application to the Hong Kong Stock Exchange, which is expected to become China's "first short video stock." As the world's leading content community and social platform, and the pioneer of the global short video industry, the company's operating income in the first half of 2020 was 25.3 billion yuan, an increase of 48% over the same period last year; the average daily activity in China was 302 million, and the average monthly activity was 776 million.
According to iResearch, as of June 30, 2020, for the six months ended June 30, 2020, Kuaishou is the largest live streaming platform in terms of virtual gift rewards and live streaming average monthly paying users; second in terms of average daily active users Large short video platform; and the second largest live e-commerce platform in terms of total commodity transactions.
3. Barclays: upgrade Baidu to "overweight" rating, target price of 170 US dollars
Boosted by the growth of AI and marketing services, Barclays upgraded Baidu from "Flat with the market" to "Overweight" with a target price of US$170. The bank analyst Gregory Zhao said that starting from the second quarter, Baidu's marketing department has risen with the gradual recovery of the online advertising market.
4. Goldman Sachs: NetEase Q3 revenue is expected to increase by 25% year-on-year, and the target price is raised to US$107
Goldman Sachs analyst Elsie Cheng currently raises NetEase's target price from US$104 to US$107 and maintains a "Buy" rating before the company announces its earnings report on November 19. The analyst said that NetEase's third-quarter revenue is expected to increase by 25% year-on-year, and believes that the company's management will elaborate on the new games launched in overseas markets on its earnings call.
5. New Oriental went public on November 9, Futu's dark market performed well
New Oriental issued an announcement stating that the company plans to issue 8.51 million H shares for its second listing in Hong Kong. The final offer price has been determined at HK$1190 per share. The total proceeds (assuming the over-allotment option has not been exercised) is expected to be approximately HK$10.13 billion. Listed on November 9. On the dark market day of November 6, Futu's dark market performed better. The company's dark market rose 14.12% from the offer price, earning HK$1,680 per lot.
3. Summary and summary
The weighted index of concept stocks rose 5.79% this week, showing a strong overall performance, with only 14 of the 59 constituent stocks falling. Although Double Eleven is coming, due to the suspension of Ant Group's listing, the e-commerce giant Alibaba's performance is average, but it is difficult to cover up the large gains of other platforms, such as Pinduoduo and JD.com; and new energy vehicles, as a hot spot in the market, have recently With bad news such as the ideal car recall, investors in the future will need to keep an eye on changes in the company's fundamentals. With the gradual conclusion of the US general election, the market is expected to become active again.
Risk warning: The views of the authors or guests shown above all have their specific positions, and investment decisions must be based on independent thinking. Futu will endeavour but cannot guarantee the accuracy and reliability of the above content, and will not bear any loss or damage caused by any inaccuracies or omissions.