China's electric "old head music" rose 80% in a week, can Americans buy it?
The sharp volatility of the stock price is just one of the reasons why investors should be cautious about this stock.
This year, US stocks listed on the country's new energy auto companies unprecedented blitz. Last year, Weilai Automobile, which was still hovering on the line of life and death, its share price has risen more than 10 times this year. Ideal Automobile and Xiaopeng Automobile, which have successively landed on the US stock market in July and August, have both increased by more than 200%.
Together on the outlet was blown up, as well as a 2006 US stocks listed in China's car prices - Condi car industry , its share price is still less than the end of July $ 400 wandering, is now close to $ 15, especially in the last Soaring 80% in a week.
This little-known domestic car company was actually the "boss" of China's electric car market in 2015. However, after the policy raised the subsidy threshold, the sales of micro-electric car companies such as Kangdi declined sharply, and eventually fell from The market disappeared. The data shows that its sales data for 2019 is 0.
However, Kangdi is trying to open up new battlefields abroad: two products that domestic consumers nicknamed "old head music" will soon be launched in the United States. What "Barron" wants to ask is: Will American consumers buy it? Can Kangdi really come back to life with the American version of "Old Man Music"?
The following is the text:
Kandi Technologies Group (KNDI) is a Chinese company that produces parts for natural gas-fueled automobiles and electric vehicles. For investors in the electric vehicle industry, this company not only reflects the prospects of the electric vehicle industry, but also has some potential shortcomings.
The market value of Kangdi Auto, which is listed on the Nasdaq, is only US$932 million, which is much smaller than Tesla (TSLA). The company's sales of electric vehicles last year were almost zero, but after announcing plans to sell electric vehicles in the United States, the stock price rose sharply this year.
The Texas Commission on Environmental Quality recently announced that the two models that Kandi Motors plans to launch in the United States can enjoy tax rebates. This news has promoted the company's stock price in the first four transactions in the past week. It has nearly doubled in the day. Then, after Kandi Auto disclosed that it would raise US$100 million through private equity, the company's stock price plummeted by more than 20% in early trading last Friday. This is the second time in two weeks that the company's disclosure of private equity financing has caused significant stock price fluctuations. . As of midday of the day, the stock price's decline narrowed to 13%, at around US$12.60 (Editor's note: Kandi Motors rose 24% on November 23 to close at US$14.93, a cumulative increase of 80% in the past week). But the sharp volatility of the stock price is only one of the reasons investors should be cautious about this stock.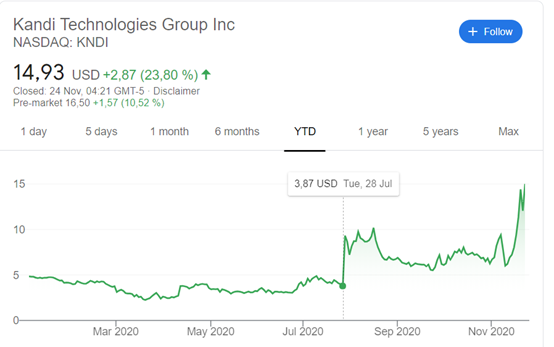 The old man is happy to distribute across the United States
Kangdi Auto was established in Jinhua City, Zhejiang Province in 2002, and listed in the United States in 2006 through a reverse merger. The company's filings with the U.S. Securities and Exchange Commission (SEC) show that 99% of the $136 million in revenue in 2019 came from electric vehicle parts, off-road vehicles and scooters, and sales of electric vehicles were low. According to the 10K file submitted by Kandi Auto to the SEC on April 28, the company lost 7.2 million US dollars in 2019 and 5.7 million US dollars in 2018.
In an interview with Barron's, Kangdi's chairman Hu Xiaoming said that the company will start selling K27 electric vehicles (similar to Mini Cooper in size) in the United States in December. The estimated mileage of the K27 on a single charge is 59 miles, the top speed is 68 miles per hour, and the price is $17,499. Push the market widely believed interest rates show that the first 1,000 consumers can enjoy the discount price of 9999 US dollars (after taking into account tax benefits).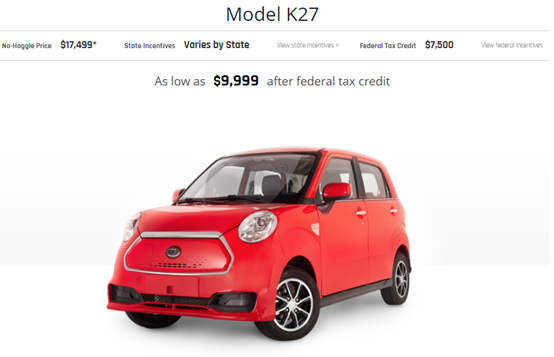 The larger and faster K23 is priced at $27,499 before the tax break. Hu Xiaoming said that if all goes well, Kangdi Automobile Industry plans to launch a powerful sports car model in the United States that can compete with Tesla.
But he also said: "We are not very sure about selling products in the US market, and the US market is not yet familiar with our products."
Johnny Tai, CEO of Kandi America's U.S. subsidiary in Garland, Texas, said in an interview with Barron's that the company is the best One of its assets is an alliance with an existing network of independent dealers for all-terrain vehicles (small, open four-wheeled vehicles suitable for driving in open fields). But Tay also said that Kandi's car industry is more pursuing a sense of high technology, so he is looking for dealers in the city.
"A lot of things have not been settled, but they are becoming clearer and we are discussing cooperation opportunities with different people every day," he said.
Given that Kandi will launch products in the United States in December, Taj's plan does not seem to be fully formulated yet. He said he is still working on plans to establish a national distribution network.
"Barron's" also interviewed live on the outskirts of Denver pharmacist Robert Bates Mitchell (Robert Beitscher), Condi car industry after the purchase of products in the consultation, he wanted to be the company's dealers. Betscher said he called Conti Auto and asked who their dealership in Colorado is. "They said,'We don't have a distributor in Colorado yet,' so I said,'What are the requirements to be a distributor? They said,'We will send you the application form.'"
Bettscher said that he and a partner had invested $30,000 in renting a sales area in Kangdi Auto and hoped to start showing the company's models in December. Tay acknowledged that Kandi America has approved Betscher's application, but he also said that the details of the final dealer network have not been finalized.
Can Chinese electric cars serve the American soil and water?
China hopes to become an important global electric vehicle market. With the support of the government, the electric vehicle industry is developing rapidly. According to Scott Kennedy, China Economic Issues Advisor at the Center for Strategic and International Studies, a Washington think tank, the Chinese government has provided approximately US$100 billion in subsidies to the electric vehicle industry as of 2018 , Equivalent to about one-third of the price of a car. Kennedy said that there are currently 119 local electric vehicle companies in China.
According to Henry Lee, director of the Environment and Natural Resources Program at Harvard's Kennedy School of Government, most of the electric vehicles currently produced in China are "driving between 60 and 100 miles, and the price is A small car worth about US$20,000." Kangdi Auto has positioned the K27 in the US market as the second choice for shopping or short-distance commuting.
Columbia Threadneedle Investments stock analyst Charles Mann (Charles Mann) believes that Chinese electric vehicles may not be suitable for American consumers. After Daimler's (Daimler, DAI. Germany) sales of electric vehicles fell from the highest level of 2,594 in 2014 to 680, the company cancelled its plan to sell the all-electric Smart Fortwo in North America last year. Data from the U.S. Department of Energy shows that during the same period, sales of the Leaf electric car produced by Nissan (Nissan, 7201. Japan) fell 59% to 12,365. The Leaf is priced at US$31,600, which is about the same size as Kandi's K23, but with more power and a longer wheelbase.
"If the K27 is positioned as the second choice for shopping or short commuting, why did the Yugo, a small car imported from the former Yugoslavia in the 1980s fail to succeed in the US market? Consumers at that time really wanted to spend $5,000 Is adding a car just to go shopping? It turns out they don't have this need," Mann said.
Of course, the K27 is different from Yugo, but after Yugo's failure, investors should be cautious about Kandi's entry into the U.S. market with small cars and hope to show off.