Many times in a month, Tesla has become the "public enemy" of domestic car companies?
As more high-end products of local new energy brands enter the market, the textual debate on the Internet in the past two weeks may be just the first smoke.
1 The gap between Xiaopeng Motors and Tesla CEO Musk originated from an unconfirmed intellectual property theft case between the two companies.

2 Tesla's controversy also reflects its influence in the global automotive industry. Since the establishment of Tesla, the cumulative sales have exceeded 1 million, and it has achieved profitability.
Following Li Bin, Tesla CEO Musk once again fought each other with high-level Chinese new car companies. On the first day of the Guangzhou Auto Show on November 20, Xiaopeng Automobile announced that it would launch the first mass-produced car equipped with Lidar in 2021. This announcement attracted the attention of foreign media and immediately attracted Musk's complaints. Musk sarcastically said on Twitter that although Xiaopeng Motors has Tesla's old software, it does not have Tesla's latest neural network computer. In response, Xiaopeng Motor's chairman He Xiaopeng responded in a high-profile manner on social media, "Starting next year, you must be mentally prepared for autonomous driving in China to be beaten by us. As for the international community, we will meet."
This round of mutual clashes stemmed from an unsettled intellectual property theft case between the two companies. In March 2019, Tesla accused Xiaopeng Motors employees of stealing its self-driving technology and provided it to Xiaopeng Motors. After 13 months of investigation of the case, in April this year, according to foreign media reports, Tesla asked to expand the scope of the investigation. Xiaopeng Motors began to be unable to sit still and issued a "serious statement" saying that Tesla was dominating young competitors. Ling. So far, the exact results of this case have not been disclosed to the public, and Musk's response to the latest technology of Xiaopeng Motors is also believed to convey an attitude towards the "theft case" mentioned above.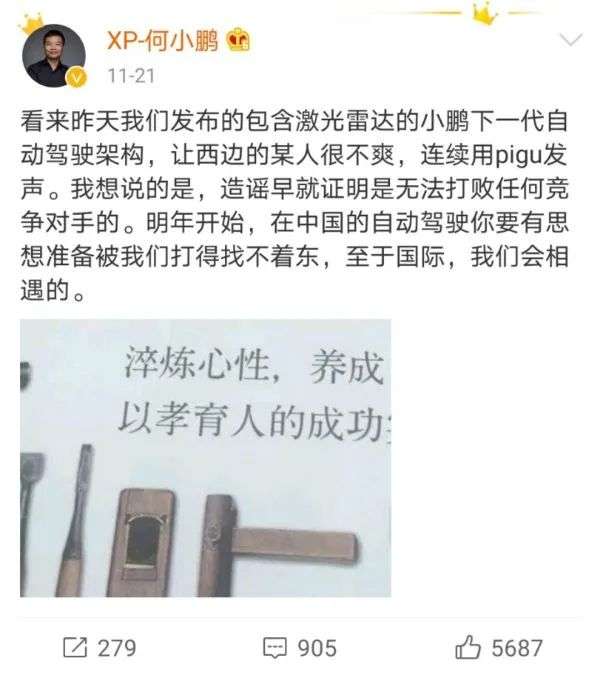 Like many new car companies, Xiaopeng Motors is also regarded as Tesla's Chinese disciple, and is known as the company most like Tesla. Xiaopeng Motors said that it is the only OEM manufacturer in the world that does research and development in China's full-stack autonomous driving (excluding chips and radar) in China. Xiaopeng Motors' automotive electronic and electrical architecture is considered to be the closest to Tesla, and the price range of Xiaopeng P7 is also the closest to Tesla Model 3 among new car manufacturers. However, Xiaopeng Motors executives believe that Xiaopeng's technology can better adapt to China's localized road conditions and driving habits, and foreign autonomous driving solutions such as Tesla may not be satisfied.
Interestingly, this has already been Musk's several times in the past two weeks with Chinese car companies, including new car companies, as well as traditional car companies. On November 6, Li Bin, chairman of Weilai Automobile, said in an interview with the media that the average unit price of Weilai is about 150,000 more expensive than Tesla in China, and the user group and Tesla are not the same. This remark also immediately caused Musk's backlash. He published a tweet to compare the market value of the two companies and said: "420 is ten times better than 42!" This is also the two of China and the United States. For the first time, a new car company competed on the Internet.
Also on November 6, Li Xiang, the founder of Ideal Auto , said that although he appreciates Tesla, he will not make products in the way of Tesla, but in the way of Apple Jobs. Earlier, he bluntly said that Tesla's sales in China were too junior. The executives of GAC New Energy also said recently that some products are more intelligently configured than Tesla.
Regarding He Xiaopeng and Musk's face-to-face war of words, netizens divided into two camps. Some netizens support Xiaopeng Motors' hard work on Tesla, but many netizens believe that Xiaopeng Motors does plagiarize. "This is the first time that Elon has taken on new forces, indicating that his opponent has attracted his attention, and this kind of things will increase in the future..." one of the netizens commented.
In fact, Musk's sharp speech and love for people are already well known. Since 2015, he has publicly attacked mainstream international car companies such as Volkswagen, Toyota, Ford, and Mercedes-Benz. For example, he commented that Ford's factories are like morgues and that taking over Volkswagen by himself is a rescue. The only way for Volkswagen... But at that time, Chinese auto companies had not yet entered Tesla's vision, and their role in the Chinese auto industry was more like an idol. However, with the growth of Chinese new car manufacturers and the "hunting" of the Chinese market after Tesla's domestic production, Chinese rivals, whose products and competitiveness have gradually grown, have begun to proactively call Tesla, and a war of words between senior executives has also started. .
It's worth noting that apart from Chinese car companies, Toyota, which has always been low-key, has also taken the initiative to "attack" Tesla on a rare occasion. On November 6, Toyota President Akio Toyota stated on an earnings conference call that although Tesla's market value surpasses Toyota, people are just buying Tesla's "recipes", and Toyota has real Build a car "kitchen" and "cook" with confidence to compete with Tesla. A few years ago, Musk called Toyota's hydrogen fuel strategy "incredibly stupid." At that time, Toyota just responded calmly and said, "I think it is." With the increase in sales and profitability, Tesla has surpassed Toyota in market value this year, becoming the world's most valuable auto company.
In addition, many multinational auto companies have recently begun to jointly criticize the safety of Tesla's long-board technology—autonomous driving. On November 10th, Scott Griffith, head of Ford's autonomous driving and mobility department, published an article showing that for Tesla's "self-driving" technology, Ford worked with Daimler, Volkswagen, General Motors, and other automakers. Questioned, thinking that this is just a derivative of the Autopilot (automatic assisted driving) system. Since the use of Tesla Autopilot has caused many traffic accidents, Tesla's promotion of this technology has been criticized by regulators and insurance companies as a dangerous misleading behavior.
Tesla's controversy also reflects its influence in the global automotive industry. Since the establishment of Tesla, the cumulative sales have exceeded 1 million, and it has achieved profitability. In the field of information security, Tesla is used as an analysis case, precisely because it has enough road operation experience. However, the competition of the smart electric car track has just started, and it has obvious geographical attributes in different countries. In the Chinese market, although Tesla's current sales volume is far ahead, local car companies such as Weilai and Xiaopeng have grown rapidly during the year in terms of their technical routes and competitiveness in the capital market. More high-end products have entered the market, and the textual debate on the Internet in the past two weeks may be just the first smoke.