Nio delivered 5,000 vehicles in October for the first time, and the closing price was $33.32 to a new high
The monthly delivery volume of Weilai Automobile hit a record high.
On November 2, the sales data disclosed by Weilai Automobile showed that in October this year, Weilai Automobile delivered a total of 5,055 new cars, an increase of 100.1% year-on-year. This is the first time that the monthly delivery volume of Weilai Automobile has exceeded 5,000 units , setting a new high in the number of single-month deliveries of the brand, and has achieved positive year-on-year sales growth for the eighth consecutive month since March this year.
Among them, ES6 delivered 2,695 vehicles, ES8 delivered 1,477 vehicles, and EC6 delivered 883 vehicles. It is worth noting that this is the first monthly large-scale delivery of EC6, showing a trend of hot sales. In the first 10 months of 2020, Weilai Automobile delivered a total of 31,400 vehicles, an increase of 111.4% year-on-year. Since June 2018, Weilai Automobile has delivered a total of 63,300 vehicles.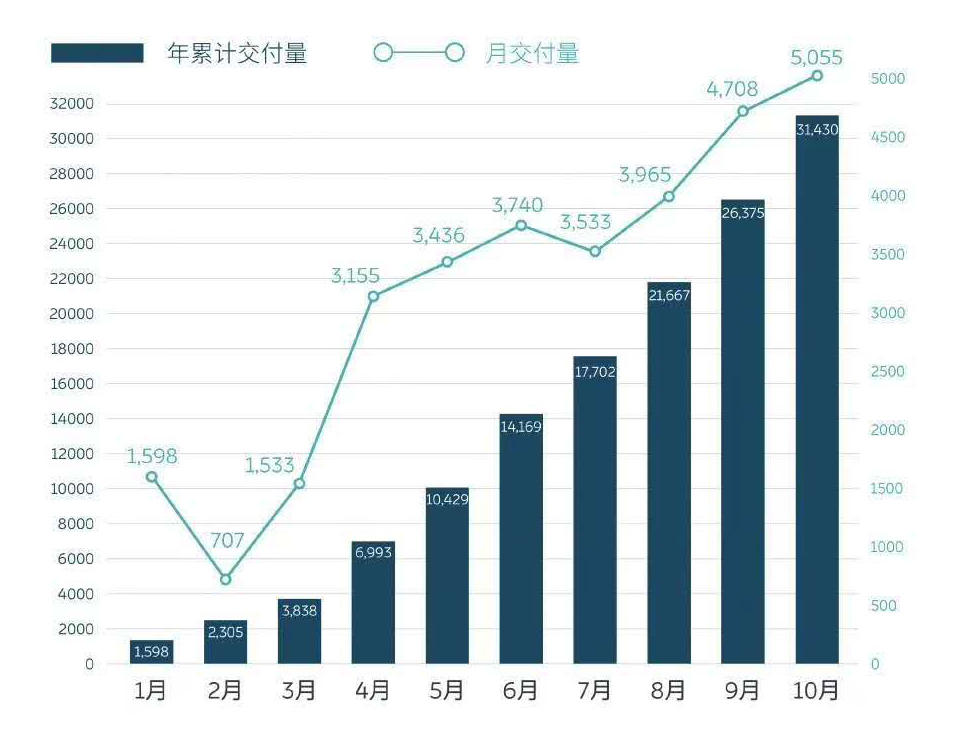 Weilai sales chart source: official
Affected by the positive news of rising sales, Weilai's stock price rose by as much as 13.96%. As of the close of US stocks on November 2, Weilai Auto's share price closed up 8.96% to 33.32 US dollars, with a market value of 45.297 billion US dollars (about 30303.32) 100 million yuan), a record high. The market value of Weilai continues to surpass SAIC (280.053 billion yuan), becoming the second-largest domestic vehicle company by market value.

Weilai stock price chart within one year Source: Tiger Securities screenshot
Wall Street analysts also expressed optimism about the development prospects of NIO in the near future. On October 30, Morgan Stanley stated in a report that "Nio's sales will continue to strengthen this year, and this kind of momentum will continue next year." It maintained its "overweight" rating and set the target The price has been adjusted from the previous US$20.5 to US$33. Earlier, Deutsche Bank praised Weilai for being expected to become the next iconic auto brand; JP Morgan Chase substantially raised Weilai's target price from US$14 to US$40.

On November 2nd, the sales data of Xiaopeng Automobile and Ideal Automobile were also released. According to official data, among the three new car-building forces, Ideal Car's delivery volume in October ranked second, with a total of 3,692 new cars delivered; Xiaopeng Motors temporarily ranked third with a total of 3,040 new cars delivered, an increase of 229% year-on-year . In the first 10 months of this year, Ideal Automobile and Xiaopeng Automobile delivered 21,900 and 17,100 respectively.
Domestic competition is booming, and NIO is still planning to expand overseas markets. Recently, a source revealed to the media that NIO is preparing to build an overseas business unit and sell its products to Europe. The internal code is tentatively designated as the "Marco Polo Project". The first overseas NIO House may land in Copenhagen, Denmark.
At present, NIO has established an export business team and deployed a lot of personnel. It plans to spend two years selling 7,000 ES8 and ES6 models in Europe. At the same time, services including worry-free service and one-key power-on will also be provided as a complete set.