NIO's market value surpasses GM, BMW, and Ferrari, becoming the world's sixth largest automaker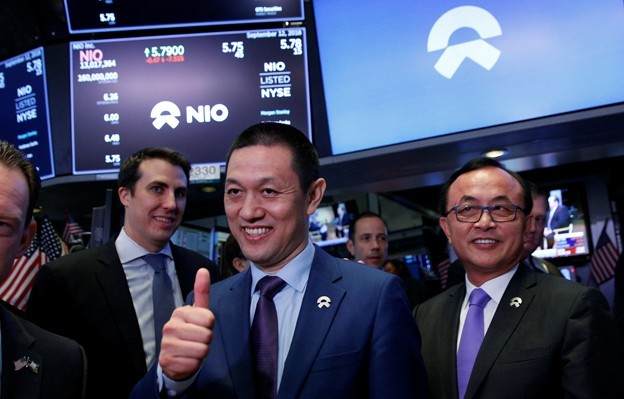 Weilai's market value surpasses GM, BMW, and Ferrari
On November 5th, US stocks closed, and China's concept stocks in the new energy vehicle sector rose collectively. Among them, Weilai closed at 42.35 US dollars, up 12.30%, and its market value reached 57.688 billion US dollars, setting a new high. This market value also exceeds that of traditional car giants such as BMW, GM, Ferrari, and Ford.

Calculated by market value, Weilai has become one of the world's top ten manufacturers, ranking sixth, second only to Daimler, BYD, Volkswagen, Toyota, and Tesla. In the top ten market capitalization rankings of domestic Internet companies, Weilai's market capitalization has surpassed Baidu , ranking 9th.
According to data from the China Automobile Association, the domestic new energy vehicle market was only 12,800 vehicles in 2012 and increased to 1.206 million vehicles in 2019. From January to September this year, the cumulative sales of domestic new energy vehicles have reached 734,000.
In recent years, the sales of new energy car companies have achieved substantial increases. According to data released by NIO, 5,055 vehicles were delivered in October, a year-on-year increase of 100.1%. From January to October, Weilai has delivered 31430 vehicles in total, an increase of 111.4% year-on-year; Xiaopeng Motors released data showing that it delivered 3,040 vehicles in October, an increase of 229% year-on-year. From January to October this year, Xiaopeng Motors delivered a total of 17,117 units, a year-on-year increase of 64%; Ideal ONE delivered 3,692 vehicles in October, setting a new monthly delivery record for three consecutive months, and cumulatively achieved from January to October. 21,852 vehicles were delivered.
Earlier this month, the General Office of the State Council officially released the "New Energy Automobile Industry Development Plan (2021-2035)." Document pointed out that to insist on electrification, network linking, intelligent direction of development, with emphasis on the integration of innovation, breakthroughs in key core technology, optimize the industrial development environment, promote our country's new energy for sustainable development of the automotive industry, high-quality, accelerate the construction of automotive power .