"Tage Zhixing" received 200 million RMB in Series B financing and plans to be listed on the Science and Technology Innovation Board in the next 1-2 years Wang Yijin
Research and develop full-stack unmanned transportation solutions in mining areas.
It was learned that Tage Zhixing announced that it had received 200 million yuan in Series B financing, which was jointly led by Qianhai Fund of Funds and Baotong Investment, with Qingyan Capital and Lanyan Capital as follow-up investors.
Yu Guizhen, the founder and chief scientist of Tage Zhixing, said that this round of financing is mainly used for product mass production and function upgrades, optimizing the supply chain and service system, strengthening engineering delivery capabilities, and ensuring the high-quality delivery of orders on hand and the rapid start of reserve projects.
Tage Chi Heng was established in September 2016, mainly R & D mine full stack unmanned transport solutions, has completed three rounds of financing in 2019: A round co-lead investor for the Jinsha River, a strategic resource Fang Central conjunction with the cast; A + 1 The round was led by Pufeng Capital and Hechuang Capital, and Fang Nuohao, a strategic resource, followed up; the A+2 round was led by Zhongqi Capital. Prior to this, Tage also completed an angel round of financing of tens of millions of RMB at the end of 2016; completed a Pre-A round of financing of tens of millions of RMB in October 2017. Investment institutions include Chentao Capital, Baixi Evergreen Investment, and Beijing Huiquan. investment.
Yu Guizhen revealed that they are confident that they will have the conditions for listing on the Sci-tech Innovation Board within 1-2 years . Unmanned transportation in mines is a 100 billion-level market. They will unite upstream and downstream enterprises in the industry to build an industrial ecology, promote standard setting, cultivate the domestic market, and enter the blue ocean abroad.
In terms of specific business progress, Yu Guizhen mentioned that they realized the multi-group operation of unmanned mining trucks in early 2019. This year they realized unmanned night shift operations and unmanned cabs, and started large-scale project deployment.
Tage Zhixing stated that they signed a commercial contract worth over 100 million yuan in 2019. Among them, the unmanned mining truck project signed with the Baiyun Obo Iron Mine of Baotou Iron and Steel Group has completed the second phase acceptance in October this year; the unmanned project contract with the South Open-pit Coal Mine of State Power Investment Corporation is the first public tender in China The coal mine unmanned transportation project has been delivered and accepted in June this year; the 200 unmanned wide-body vehicle contract with the EPC Zhonghuan, the largest coal mine in China, has been delivered to 3 operation groups, which will be realized in the Yongshun Coal Mine in Erdos 24 hours continuous operation. The conversion rate of POC projects to commercial orders exceeded 80%, and subsequent orders exceeded 300 million yuan.
At present, Tage Zhixing's customers include large state-owned enterprises in the fields of energy and metals, as well as the largest domestic coal mine EPC Zhonghuan. Tage Zhixing has also established an intelligent mining industry promotion alliance with Baotou Steel Group, Northern Corporation , China Mobile , Huawei and other companies, and formed a "concerted action person" with the domestic mining truck leader, North Corporation, to promote pre-installed unmanned driving systems. New car sales and unmanned transformation of mining cards in use.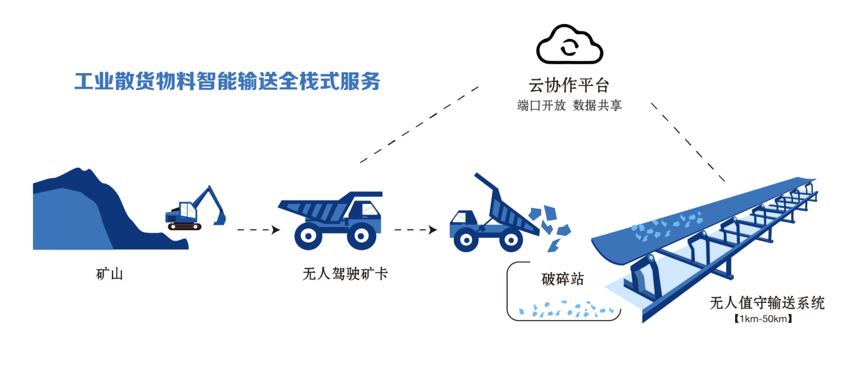 Conveyor belt transportation and mining truck unmanned transportation scenes complement each other (Source: Tage Zhixing)
Tage Zhixing said that its self-developed vehicle-mounted hardware computing platform M-box has completed the third major version iteration, integrated 5G communication modules, and passed a number of vehicle regulations of the China Metrology Institute for environment, reliability, and EMC. Level testing certification is the first batch of vehicle domain controllers in China that integrate 5G + C-V2X communication, support high-performance parallel computing, high-security decision-making control, and pass vehicle regulatory certification.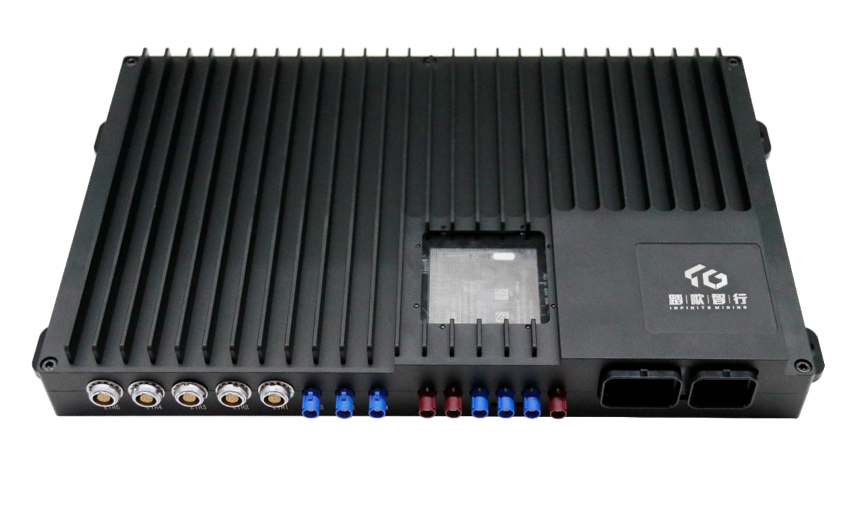 Tage's third-generation vehicle-mounted computing platform M-box 3.0 integrated with 5G + c-v2x multi-mode communication modules (Source: Tage Zhixing)
In response to the B round of investment, Zhou Zepu, senior vice president of Qianhai Fund of Funds, said: "At present, most of the driverless application scenarios are still in the verification stage, and Tage Zhixing has taken a different approach to choose the mining scenario. This scenario is low speed, closed, and no shipment People and customers have outstanding pain points. Tage Zhixing has strong technical research and development capabilities, a rich product matrix, modular engineering deployment, and functions to cover various business needs of the mine."
Baotong Technology Chairman Bao Zhifang said that Tage Zhixing is the leading provider of unmanned transportation solutions in mining areas in China. Its products have begun to be deployed on a large scale. The open-pit mine unmanned transportation system "Kuanggu™" supports different brands and models. Large mining trucks and wide-body vehicles have been highly recognized in the industry. In the future, Baotong Technology will use its own industry resources and global layout to allow Baotong's unmanned conveyor belt transportation system and Tagezhixing's unmanned mining card transportation to form complementary functions and scenarios, and jointly explore the intelligent transportation of industrial bulk cargo. New models and new mechanisms for digital development.
Zhou Qiudong, general manager of Qingyan Capital Investment, said: "We are optimistic about the combative and executive team led by Professor Yu Guizhen, and also optimistic about the accumulation of Tage Zhixing in technology and business, and even more optimistic about the future of the entire industry."