"Tesla in the truck industry" had zero revenue in the third quarter and was previously accused of fraud
To fight back the rumors, the most powerful evidence is a real production car.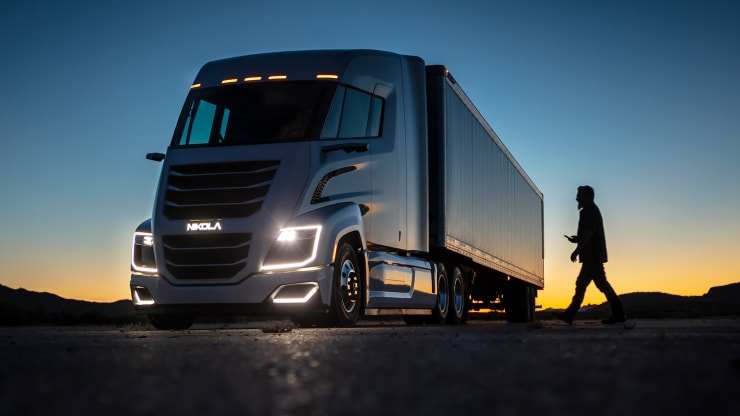 US hydrogen truck manufacturer Nikola's second financial report after its listing, the results are still not satisfactory.
On November 10, Nikola's third-quarter 2020 financial report showed that the company's revenue for the quarter was 0, and its revenue for the same period last year was $296,000. In addition, in the third quarter, Nicolas had a net loss of US$117 million, compared with a net loss of US$15.51 million in the same period last year; a diluted loss of US$0.31 per share compared to a loss of US$0.06 per share in the same period last year; an operating loss of US$117 million, compared with last year The operating loss for the same period was USD 13.02 million. As of the end of the third quarter, the company's cash and cash equivalents were $908 million.
Nicholas revealed that the company's Coolidge, Arizona plant has broken ground. Based on the current construction speed, the company plans to start trial production at the end of the second quarter or early third quarter of 2021.
On September 8, Nikola announced a strategic cooperation agreement with General Motors. According to the agreement, the two companies will jointly produce electric pickup trucks and fuel cell commercial trucks to challenge Tesla. In addition, General Motors will acquire 11% of Nikola's shares, which are worth US$2 billion. Currently, this transaction has not been completed, and Nikola is still continuing negotiations with General Motors.
At the same time, Nikolai was in a crisis of fraud.
On June 18, Bloomberg published an article claiming that the information about Nikola's first prototype, Nikola One, was false. The article stated that the latter was not equipped with a hydrogen energy battery and was even a model of a car that could not drive normally. Nicholas responded by drawing Bloomberg into the media blacklist, but he did not respond directly to questioning the details.
Until September, a short-selling report gave Nikolai a fatal blow. September 10, short bodies Hindenburg Research issued a report, saying that the presence of this electric truck manufacturer "fraudulent" behavior, and accused founder Nicholas Trevor Mill Dayton (Trevor Milton) spent years lie.
After the short report was issued, Nikolai did not give a strong response. CEO Trevor Milton's sudden resignation even began to reverse the short report. Subsequently, Nikola's stock price fell 11%.
On June 3 this year, Nikola successfully listed on the Nasdaq, becoming the first US hydrogen energy stock. Five days after listing, Nikola's stock price soared by 103%, reaching a maximum of more than US$95 (about 672 yuan). At that time, its market value (US$32 billion) surpassed Ford (US$28.8 billion).
At that time, Nicolas, who had won orders for 14,000 trucks, had potential sales of more than $10 billion. Since Nikola's name also comes from the famous electrical inventor Nikola Tesla (Nikola Tesla), investors have always regarded this company as the "next Tesla."
Nicholas has produced a full eight products to build a magnificent corporate prospect, but so far has not come up with a real mass-produced product, so it has been labeled as "PPT car".
According to Nikola's previous plan, the electric heavy truck Nikola Tre will be launched in 2021, and the hydrogen fuel cell heavy truck Nikola Two will be officially launched in 2023.
Regarding Nikola's hydrogen fuel cell technology route itself, the market does not have too much bearish sentiment, and more questions about whether it can realize the grand blueprint. To fight back the rumors, the most powerful evidence is a real production car.