Tesla sells tequila across the border: the price is 1,658 yuan higher than Moutai, and the empty bottle sells for nearly 10,000 yuan
Get link

Facebook

Twitter

Pinterest

Email

Other Apps
"You think Tesla is a car brand, no, it is the largest department store in the world."
Following the production of flamethrower and short shorts, Tesla founder and CEO Elon Musk continued to take the lead.
On November 6, Tesla launched the same brand of Tequila (Tesla Tequila) on its official website. The wine was described by Tesla as an "exclusive, small-batch production of high-end wine, 100% brewed with agave grass", and it is packed in a lightning-shaped glass bottle. A bottle of wine has a capacity of 750 ml and an alcohol content of 40%. The price is US$250, or about RMB 1,658, which is higher than a bottle of Feitian Moutai (the official guide price is RMB 1,499).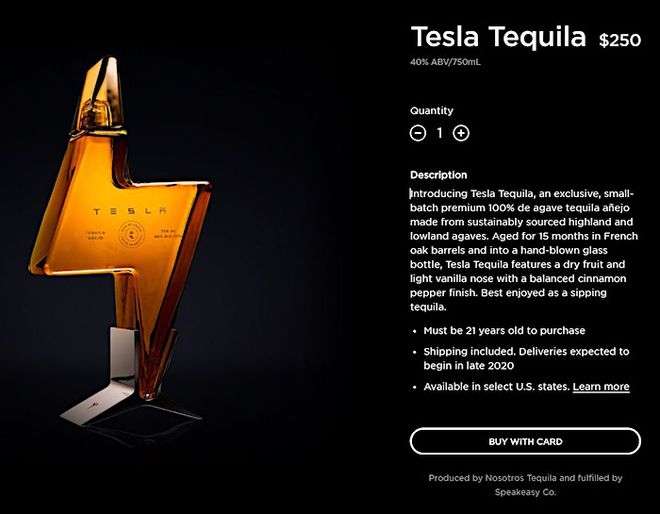 Source: Tesla official website
This tequila will be delivered at the end of 2020 and is currently only available for purchase in some parts of the United States, and must be 21 years old to purchase. However, on the day of its launch, this wine was sold out, and Tesla's official website marked "sold out". The empty bottle appeared on eBay, a second-hand goods trading website, and was sold for 1,420.69 US dollars, or about 9,418 yuan.

Some netizens commented: "Tesla has done it again for the self-driving technology to make people feel at ease", "Tesla: I made a bottle, how much do you think it costs?", "Do you think Tesla is a car? Brand, no, it is the largest department store in the world."
In fact, Musk's winemaking plan started with a joke he made two years ago.
In April 2018, the English word "Teslaquilla" added by Tesla Tequila appeared on Musk's Twitter for the first time. At that time, Musk issued a statement saying, "Tesla will declare bankruptcy because it has exhausted all its funds, and Musk will soak his grief with a bottle of'Teslan'." This is Musk's view of manufacturing Model 3 exhausted all self-deprecation.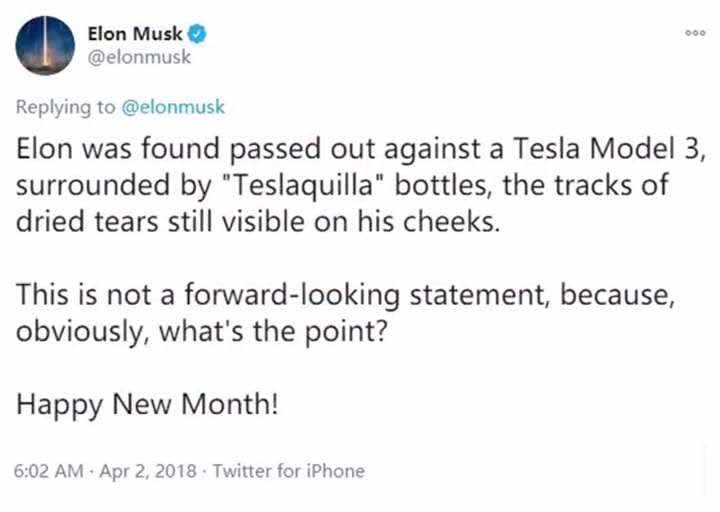 Source: Musk's Twitter screenshot
However, later, the trademark "Teslaquilla" was successively opposed by the Mexican Tequila Regulatory Council (CRT) and the United States Patent and Trademark Office (USSPTO) because "Teslaquilla" did not comply with the Mexican Tequila Regulatory Commission's tequila. Standards for naming rules of origin of blue wine.

Selling tequila is not the first time that Musk's company has "doing nothing".
On July 6 this year, Tesla sold red Short Shorts on its official website, with "S3XY" printed on the back, representing the four Tesla models Model S, Model 3, Model X and Model Y. The short selling shorts are priced at US$69.420 (approximately RMB 458).
Red short shorts are also very popular. On the evening of July 5, Musk tweeted one after another, "Limited edition shorts are now available (available for purchase)." Musk then added in another tweet that "only $69.420". A few hours later, he tweeted again: "Our website crashed."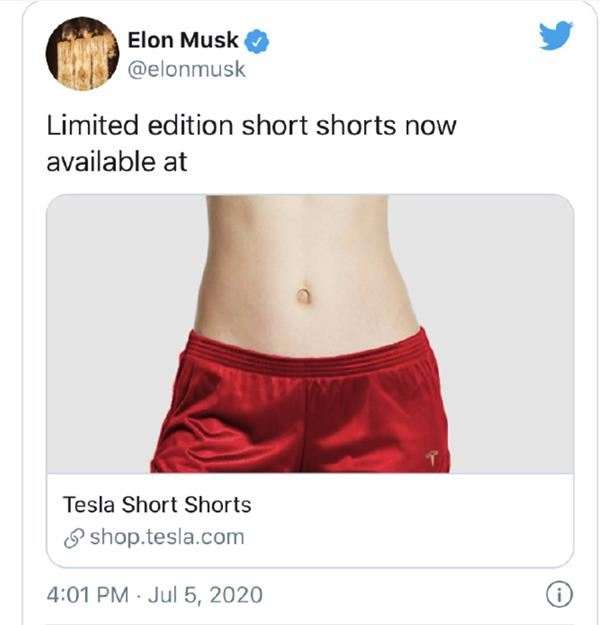 Source: Musk's Twitter screenshot
The introduction of short shorts may be a mockery of "short sellers". Earlier, Musk had tweeted that Tesla would make "short shorts" with bright red satin and gold trim, and sent a few to the "short sellers get rich committee" to comfort them through this period. Hard times.

In 2018, Musk announced that he was considering privatizing Tesla at a price of $420 per share. However, the SEC filed a lawsuit against CEO Musk on charges of misleading investors, accusing him of securities fraud. Sla's stock price fell. However, since the beginning of last year, Tesla's stock price has risen 8 times a year, stabilizing the world's largest auto company by market value. According to foreign media reports, the "420" of the red shorts priced at $69.420 may also be a mockery of the SEC.
In October 2017, Musk publicly stated that the tunnel company he founded, The Boring Company, would start selling limited edition hats with The Boring Company. He even deleted the Tesla CEO and other titles from his Twitter profile and changed it to Hat Salesman (Hat Salesman).
On February 1, 2018, The Boring Company started selling firearms again. The product was priced at $500 and was sold out by fans. The 20,000 fire-breathing guns have brought Musk $10 million in revenue.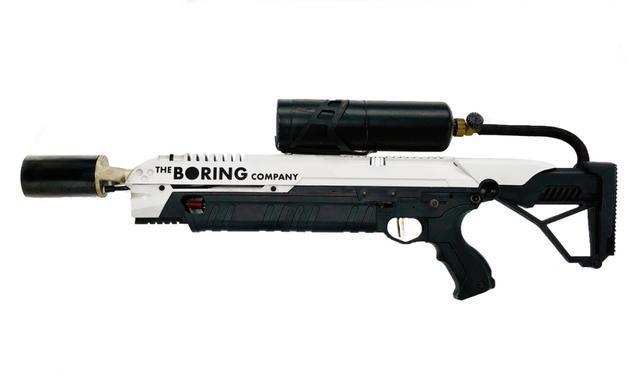 Source: Official Tunnel Company
Get link

Facebook

Twitter

Pinterest

Email

Other Apps