The new power of car-making, it is not only the stock price that has skyrocketed
"Last year there were always people who worried that we would go bankrupt, but this year we are gone."
Recently, new energy vehicles have been highly sought after in the capital market, and the performance of concept stocks among several new car-making forces has been particularly outstanding. Among them, Xiaopeng soared nearly 80% a week, and the market value of Weilai broke through the $50 billion mark and is still rising, catching up with the market value of traditional automobile groups such as BMW and GM.

How about the offline sales of the new car-building forces in the capital market? A reporter from Sino-Singapore Jingwei visited some stores and learned that sales reflect the recent increase in deliveries, and more people are booking test drives than before. There are also sales reports that customers who came to see the car last year often worried that they would fail to order a car, but this year there is no such phenomenon.
It is worth noting that on the other side of the enthusiasm, new car-building forces have recently stepped on thunder frequently on product safety issues. Some experts pointed out that the current development of the industry is still facing a new round of reshuffle, and there is still a gap between the delivery volume of auto companies and the formation of economies of scale.
01 Stock prices and sales of the top three companies have risen
According to CCTV Financial recently reported by the Shanghai foreign license plate limit line of the New Deal, new energy vehicles in Shanghai shop greet visitors stream event. An ideal car salesperson said that recently, the number of customers in the store to see the car for test drive has doubled compared with September. On the weekend, 30 new energy vehicles can be sold on average a day, which was rarely seen before.
For new energy vehicles, another policy bonus is the "New Energy Vehicle Industry Development Plan (2021-2035)" (hereinafter referred to as the "Plan") issued by the General Office of the State Council. "Planning" that, by 2025, middle country's new energy automotive new car sales will reach 20% of total car sales of new cars.
According to data from the China Association of Automobile Manufacturers, in the first three quarters of this year, the overall sales of new energy vehicles were 734,000, accounting for only 4.3% of the overall sales of 17.116 million. This also means that the future prospects for new energy vehicle sales are huge.
Related news first caused repercussions in the capital market, and the three new car-making powers in the concept stocks have ushered in "highlight moments." According to the statistics of China-Singapore Jingwei reporters, as of November 8, the latest market values ​​of Weilai, Xiaopeng and Ideal were US$56.2 billion, US$25.1 billion, and US$22.1 billion, respectively. Among them, Xiaopeng's cumulative weekly increase was as high as 79.62%. The market value of Weilai has continued to rise since it broke the US$50 billion mark on the 4th. The current market value has surpassed traditional automobile groups such as BMW and General Motors, and the cumulative annual growth rate is as high as 935.57%.

On the other hand, the sales of the three new forces frequently broke records after breaking through 10,000 vehicles. From January to October 2020, the cumulative sales of Weilai, Xiaopeng and Ideal were 31430, 17,117 and 21,852 respectively. In October, Xiaopeng's year-on-year sales volume increased by as much as 229%, and Weilai also doubled by 100.1%.
Dongxing Securities pointed out that the "Plan" generally adheres to the development direction of electrification, networking, and intelligence, and the positioning and layout of the leading new power car companies are in line with it. In addition, the current market share of top new forces is gradually increasing, and the future growth of the new energy automobile industry will provide them with greater market space.
02 Offline: From questioned to "counter-attack"?
Behind a series of "hot" transcripts, what is the situation of offline stores of new car manufacturers? Recently, a reporter from Sino-Singapore Jingwei visited some stores in Beijing. The sales of the above-mentioned new forces all mentioned that the sales of the stores have continued to increase in recent months, and the number of people who come to inquire about prices and make test drive appointments has increased significantly than before.
On the weekend, customers in a Xiaopeng car store in Beijing were in an endless stream, and the negotiating table was almost full of people. Sales Chen Zhong (pseudonym) said that if you can't wait for the test drive on the day of the appointment, and there are many people in line recently, you must make an appointment in advance.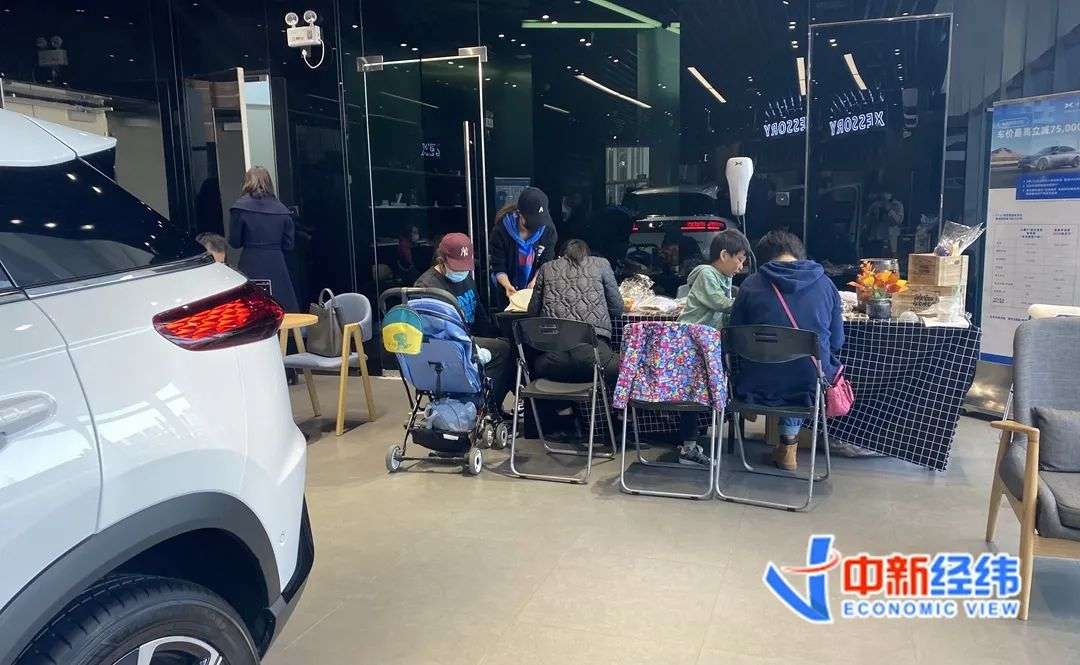 ▲Store situation
An ideal car salesman who has just joined the company for half a year told a reporter from China-Singapore Jingwei that he only refreshed his turnover last month, and sold 11 cars in the largest day. And now, with more and more people buying cars, old car owners are beginning to recommend customers to come over, and he expects that sales this month will also be considerable.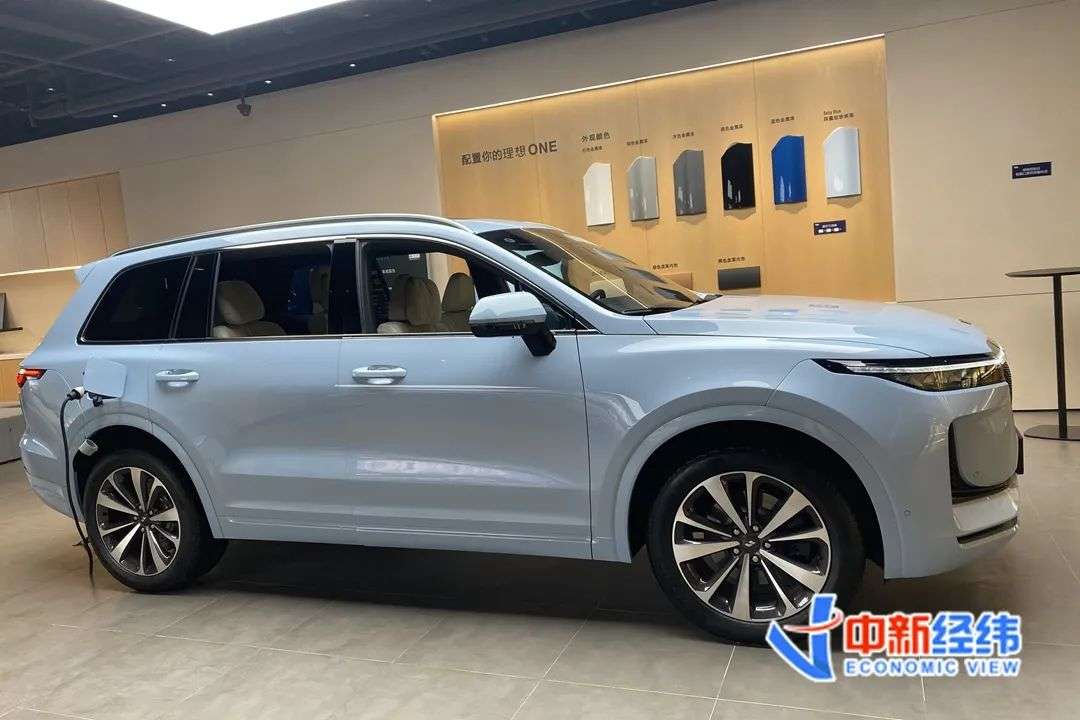 ▲Ideal ONE data map
Last year, NIO CEO Li Bin was hailed as "the worst person in 2019." This year, Weilai Automobile has continued to spread good news in terms of financing, sales and market value. A Weilai car salesman used "counterattack" to describe the changes during this period. Speaking of the soaring share price of Weilai this year, the salesperson also said with a smile: "Buy Weilai's stock earlier, and earn enough money to buy a car."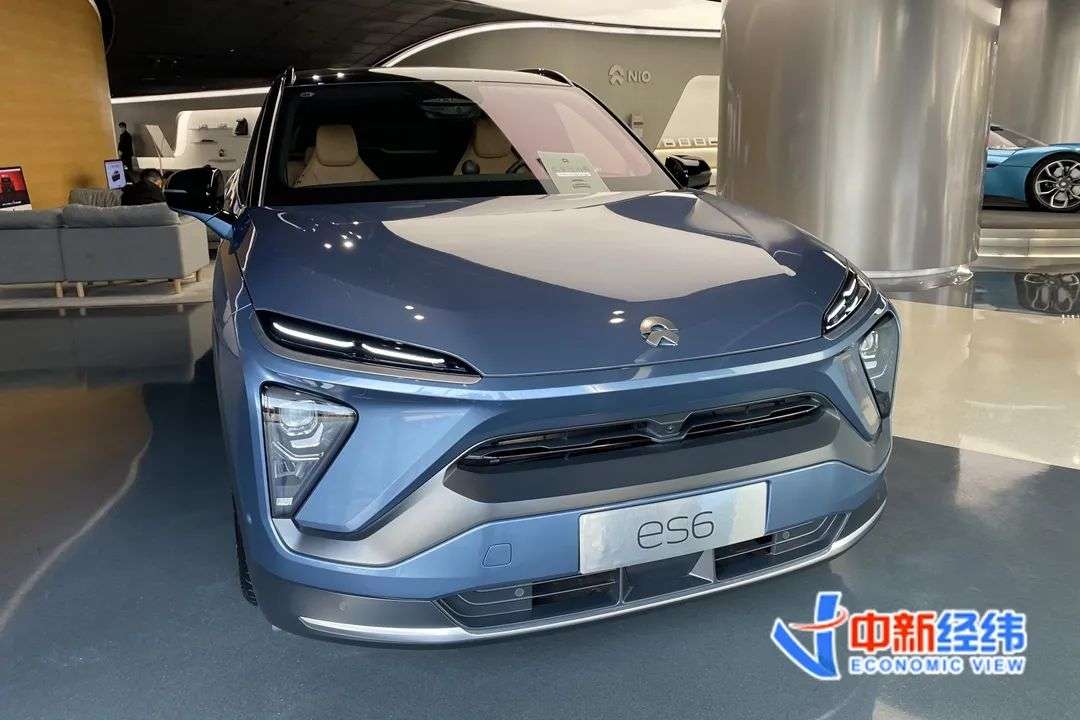 ▲ Weilai ES6 data map
On the 6th, Weilai Automobile released a 100kWh battery pack, which increased the energy density by 37% and the vehicle's cruising range also increased significantly. Previously, Weilai's battery was equipped with a 70kWh battery pack as standard. According to the above sales introduction, if a new battery is used, the vehicle cost will increase by 58,000 yuan. Due to the fast update of new energy vehicle technology, he said that many customers are always hesitating, and now it is better to wait.
"In the past, we did more to relieve customers' anxiety about mileage and charging. Now battery life and charging and swapping technologies are improving. Customers no longer worry about whether it is enough, but entangled whether they can buy better. In fact, manufacturers have also considered these issues, and there will be many simultaneous upgrade activities for old car owners. On the other hand, it can also be seen that the new energy vehicle industry has developed to another stage, pursuing higher-quality products and services." The sales said .
In the past two years, the high attention of new car-making forces has attracted some doubts, and Chen Zhong also feels. He has worked in a traditional 4S store for several years. He believes that the biggest difference is that the location of a traditional 4S store is generally remote, so the customers who come to see the car are generally interested in buying a car, and the transaction rate is also high. The new power stores are mostly in popular business districts, so many customers first come to understand with curiosity. In addition to brand and model, there are also various negative messages on the Internet.
"Because we are also an emerging industry, so many times it is consumers who educate us, and we also attach great importance to this aspect of voice." Chen Zhong recalled the most turbulent period in the industry, many friends from the prosperity of the decline or even a few months. . Now, seeing consumers' awareness of his own brand is getting higher and higher, he has slowly built up confidence. "Last year, many customers who came to see the car asked us if we were going to close down. Now we have not heard of this question again."
03 Concern: Product safety issues frequently appear
With all the signs of improvement, have the new forces of car building established a foothold in the auto industry? In an interview with China-Singapore Jingwei (WeChat ID: jwview), Cao He, president of Quanlian Auto Dealer Investment Management (Beijing) Co., Ltd., said that the recent surge in stock prices of new forces is the hype in the capital market, and one of the important reasons is the Tesla model the power of.
According to data from the global listed company market capitalization website companiesmarketcap, as of November 4, its total market value of 34 listed auto companies worldwide is as high as US$1.5 trillion. Among them, Tesla, Weilai, Ideal, and Xiaopeng have a combined market value of nearly US$500 billion, accounting for 32%. The market value of Tesla's family has exceeded 400 billion US dollars.
In addition, although Chen Zhong has escaped the pressure of being "closed", such cases are only a minority in the industry. Since the beginning of this year, many new car-building forces such as Byton, Bojun, Sailin, and Qiantu are still struggling in the turmoil of wage arrears and production suspension.
Zhang Xiang, an analyst in the automotive industry, told Zhongxin Jingwei that the release of the "Plan" will inevitably bring development benefits to new forces in car-making, and competition will become more intense. The industry will accelerate reshuffle, and some small-scale, low-tech companies Will be eliminated soon.
Cao He believes that whoever can make new cars has a chance to live. Following the arrival of NIO, Ideal and Xiaopeng have successively landed on the US stock market this year, and Weimar, Hezhong, Tianji, Ai Chi and Ling Pao also reported that they will IPO. Many analyses have predicted that only a few new car-building forces will survive in the end. "After the ranks 5 or 6 are basically out of play." Cao He said.
However, car companies that have been or are close to "landing" frequently have product safety problems. On the 6th, Ideal Motor announced the recall of 10,469 Ideal ONEs. Vehicles within the recall range due to the design of the front suspension lower arm ball pin release force, when the vehicle is impacted by a collision, the front suspension lower arm ball pin may disengage, which may affect the control of the vehicle, and in extreme cases it will increase the risk of accidents. Risks, there are hidden safety hazards.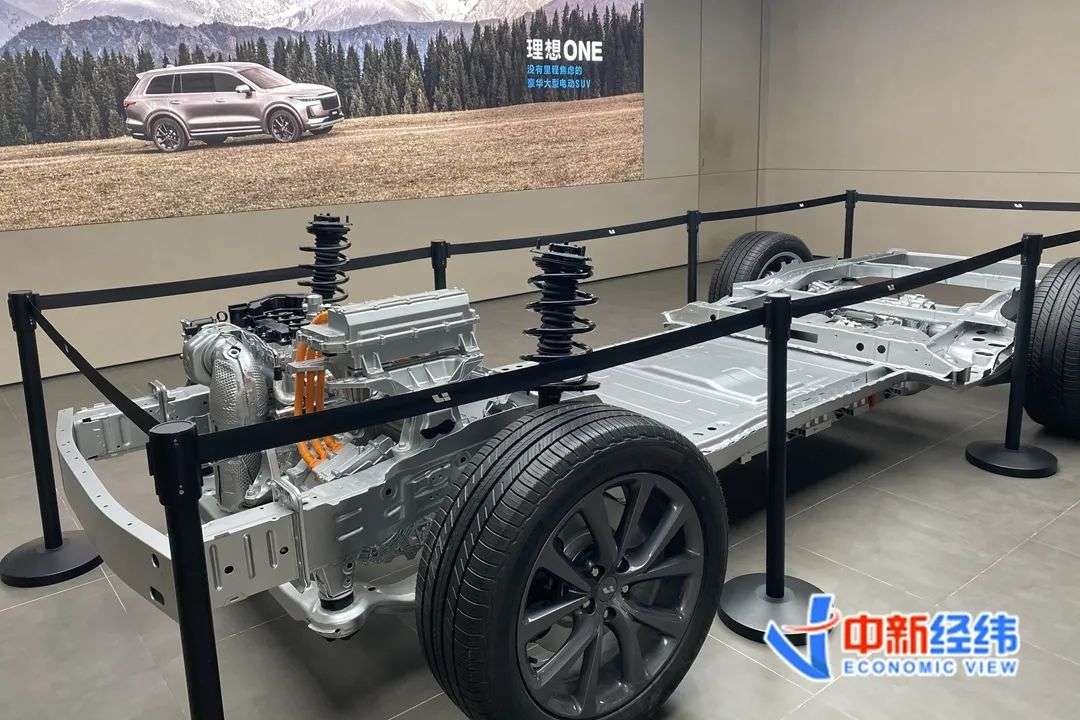 ▲Data map of ideal car body
For this recall, Ideal Motors issued an apology letter on the same day. Prior to this, Ideal Automobile was exposed to multiple broken axle accidents, but Ideal Automobile has always referred to the "recall" as a "hardware upgrade", which has caused doubts among the industry. Ideal Motors stated in the letter of apology that "its statement does not conform to industry and public perception."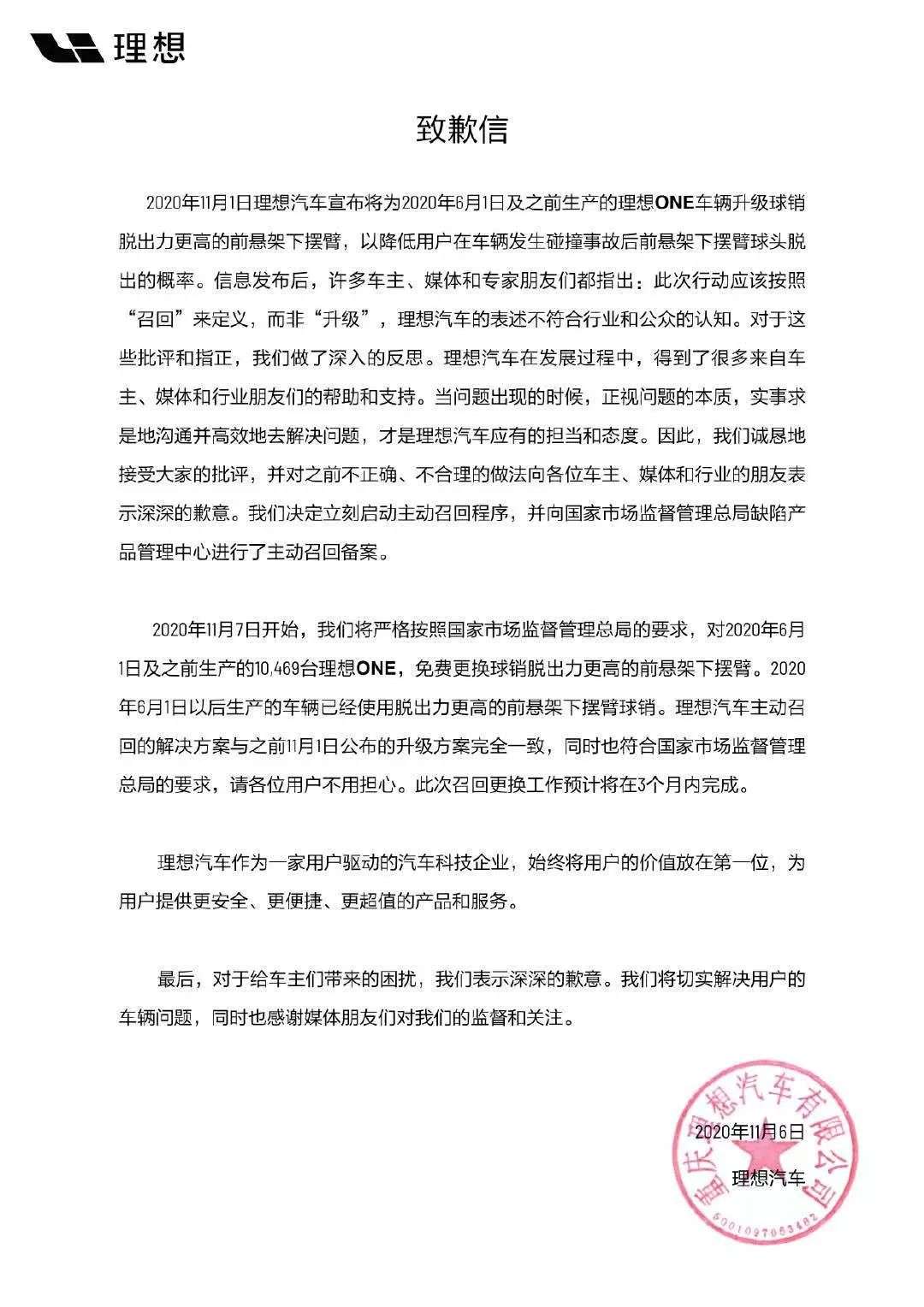 ▲Ideal apology letter, source: Ideal Auto's official Weibo
During the visit, the sales of Ideal Motors stated that the customers who came to consult recently are indeed very concerned about the recall. He has repeatedly emphasized that the previous broken axles are not all due to the vehicle itself. In addition, all vehicles in the current batch have been upgraded to the latest hardware.
Zhang Xiang believes that its own recall is a normal behavior, but Ideal Auto initially used "hardware upgrades" to reduce the severity of the problem, which also attracted public condemnation. "Now we are in a period of opportunity, and this incident will inevitably have a certain impact. It also reminds the industry that problems with products must be addressed squarely and corrected in time, so as to win the understanding and trust of consumers."
Another one that has been hotly discussed recently is Weimar Motors. On October 28, due to the battery cell supplier mixing impurities in the production process, resulting in a risk of fire in the power battery, Weimar Motors announced the recall of 1282 electric vehicles. Previously, Weimar had been exposed to four fire incidents by the media within a month, and none of them gave a public explanation of the cause of the fire.
Zhang Xiang also talked about that Tesla's domestic production rate is advancing rapidly, and product prices are constantly dropping. However, several leading new forces in China are still facing problems such as a single product matrix and delivery volume that has not yet reached economies of scale. There is still a long way to go.