What are the key factors behind Tesla Model Y's price cut?
On January 1, 2021, with the ringing of the New Year's Eve bell, the long-life version and the high-performance version of the domestic Tesla Model Y series were reduced by 140,000 yuan and 160,000 yuan respectively compared with the imported version. The official guide price It is 339,900 yuan for the long-life version and 369,900 yuan for the high-performance version. The price reduction ratio is about 30%.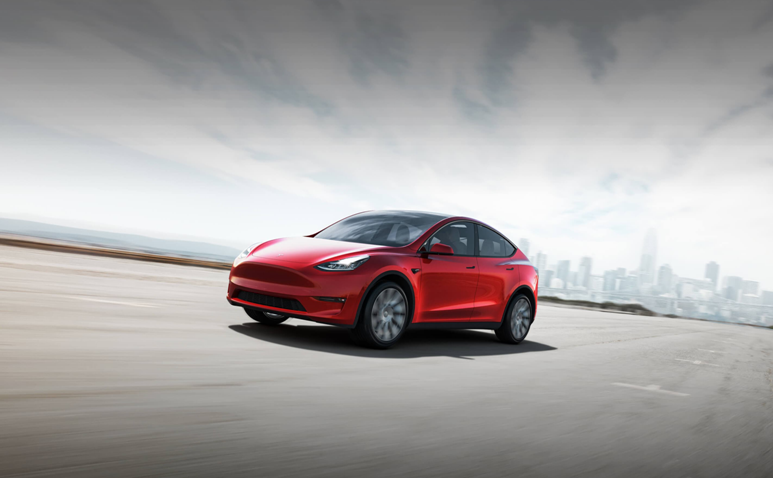 Generally speaking, 1% of the price of a car is advertising expenses, and Tesla (TSLA.US) is a maverick company. It has no advertising in its business model, but the 30% price reduction of domestic models really makes peers compete. The audience was amazed. As a listed company that sells pure electric vehicles as its main business, why can Tesla make such an exaggerated move?
Seize the market
To understand Tesla's actions, we must first start with Tesla's business strategy. Tesla's first sales in China was in 2014. According to its financial report, Tesla's revenue in China in 2014 was US$518 million. But this result is not impressive, it can even be said to be very ordinary.
However, contrast, Musk took note of the fact that Zhong Guo Xin energy demand for passenger cars in the relentless growth. As of 2020, the demand for new energy passenger vehicles in China has reached 2,760,615. This is an extremely delicious cake for any new energy vehicle company.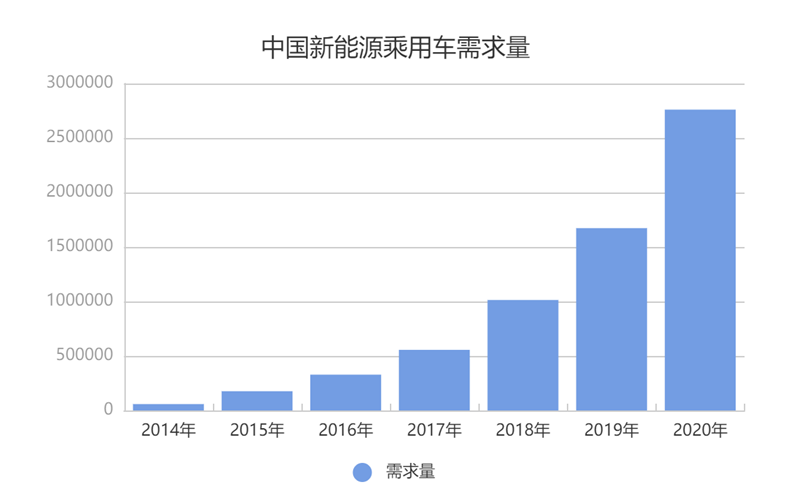 In 2016, a lot of news about Tesla's establishment of a super factory in China suddenly spread on the Internet. At the same time, a spokesperson for Tesla's earnings call also stated that it would increase its investment in China. Judging from Tesla's financial report, in 2016, Tesla's revenue in China exceeded US$1 billion for the first time, reaching US$1.155 billion, an increase of 334.7% from last year. In 2017, this momentum continued, and Tesla's revenue in China reached US$2.027 billion. In 2018, due to the impact of the trade war, sales fell by 13.4%.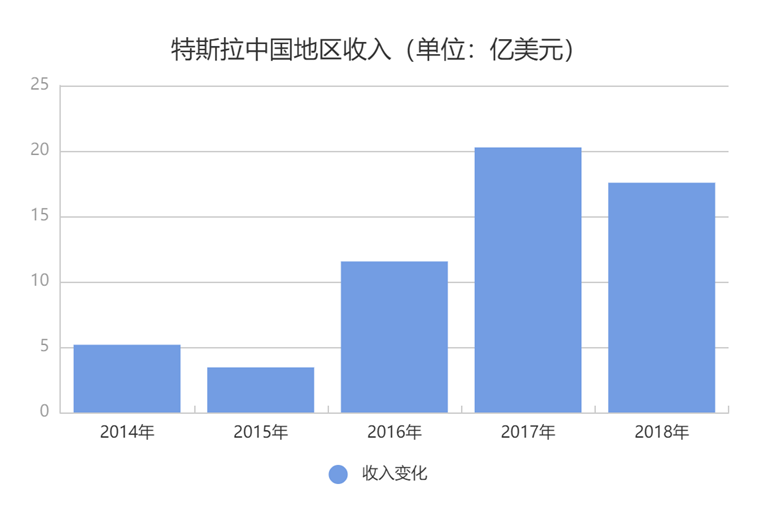 Musk saw the rise of China's new energy market, increased his bargaining chip for China's business, and finally obtained corresponding benefits. It can be seen from the pie chart that China has become Tesla's second largest business area.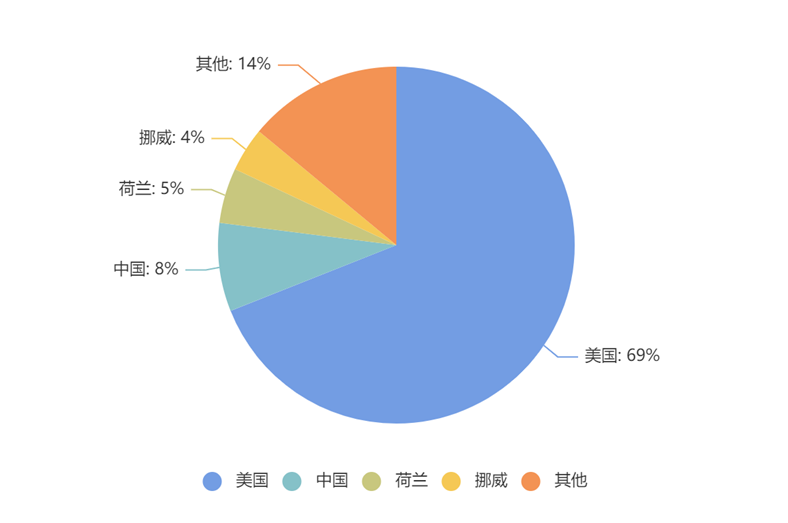 But in fact, the growth of Tesla's sales figures is not very optimistic for China's new energy industry.
In 2017, the sales volume of new energy passenger vehicles in my country was 552,000, and Tesla sold about 20,000 in China, accounting for 3.62% of the market. In 2018, the sales volume of new energy passenger vehicles in my country was 1.01 million, but Tesla sold only 9,100 in China, accounting for less than 1% of the market.
This shows that Tesla's sales force cannot reach the growth rate of market growth.
Tesla is well-known in China, but he responded to the old saying "applaud and not sell." In terms of sales in the domestic market, domestic independent brands such as BYD (002594.SZ), BAIC New Energy and SAIC are the main force in the market. In particular, BYD has a market share of 22.33%, followed by BAIC New Energy, which accounts for 15.54%.
According to the law of the distribution of the Chinese market, most new energy consumers have a budget of about 150,000 to 200,000 yuan for car models, which corresponds to A-class models, while Model 3 is a B-class model and has a low market share. The purchase budget for SUV models is about 250,000 to 350,000 yuan. In terms of vehicle models, the lowest quotation for BYD Qin and BAIC EU5 is 130,000 yuan, and the minimum quotation for Tesla Model 3 is 260,000 yuan. In the field of SUVs, BYD Tang EV's lowest price is 279,500 yuan. In this way, Tesla's models may not be "grounded."
The minimum import price of Model Y is 480,000 yuan, but it is precisely because of the substantial price cut that Tesla just falls into the expectations of Chinese new energy consumers. The result was also within Tesla's expectations. On the day when the price cut was announced, Tesla's more than 40 experience stores across the country were "full of customers."
A clerk in Beijing Chaoyang Joy City said that from January 1, 2021 to January 4, 2021, the number of customers in the store far exceeded the same period last year, and even more than the peak period in 2020.
Cars are similar to 3C products and most consumer products, and brand influence occupies a very important position in the sales process. As mentioned above, Tesla does not do any advertising, so for him, the key to improving brand influence is market retention. No advertisement can compare to a car speeding on a highway. Lowering the price and increasing the market share has become the best "advertising" from Tesla.
Once you gain a firm foothold in the market, and then launch other series, it will sell better.
Super factory
Of course, whether it is Tesla or other new energy vehicle companies, automobiles, as a heavy asset industry, are unlikely to be "losing money and earning praise". This also means that it is not only the urgent expansion demand that drives Tesla's price cut by 160,000, but also the current production from the super factory.
According to Musk, "Considering the cost of shipping and import duties, Tesla's current operating costs are 55% to 60% higher than those of locally produced cars in China."
For traditional fuel vehicles, the import tax depends on their emissions, but there is no concept of emissions for new energy vehicles. Therefore, the policy given by the state is: ordinary tax rate 270%, preferential tax rate 25%. Tesla falls under the protection of preferential tax rates. Take Tesla's Model S as an example. Its selling price is US$81,070, the transportation cost is US$3,600, the tariff is US$19,000, the value-added tax is US$17,700, the total is US$121,370, and the combined additional cost is US$40,300, accounting for the original price. 49.7%.
It can be seen that local production is of great significance to both companies and consumers.
About half of the cost of a new energy electric car comes from the battery. From a technical point of view, Tesla cannot produce its own batteries like BYD. The 2170 battery and 18650 battery currently used by Tesla have large capacity and high energy density. However, because Tesla does not have complete battery production technology, these two types of batteries are mainly produced by the Japanese Panasonic Group supply. This also means that domestic lithium battery suppliers can bring Tesla a huge cost advantage. Once the two sides completely overcome the battery barrier, the price of domestic Tesla models may be further reduced.
With Tesla's overnight explosion, the battery-related stocks in Tesla's concept stocks are also booming. In particular, Tianqi Lithium (002466.SZ) and China Mining Resources (002738.SZ), which are suppliers of Tesla lithium batteries, and Stic (300806.SZ), which is a supplier of Tesla polymer materials Direct daily limit on January 5 and 6, 2020.
Compared with the world's mainstream new energy vehicles, Tesla's acceleration of 100 kilometers and maximum speed are in a leading position. This is due to Tesla's superb motor technology. The AC induction motors used in Model S/X and the permanent magnet synchronous motors used in Model 3 are top-notch products of the same type.
Connecting Tesla's production to China can certainly drive the overall level of China's new energy industry chain, but relatively, it may be difficult for Chinese suppliers to intervene in Tesla's motor production process.
In summary, the reduction of various tariffs and value-added tax, and the reduction of the supply chain cost of core components are also the reasons for the substantial reduction in the price of Tesla Model Y. It is not difficult to imagine that as more Tesla models are produced in the Shanghai Super Factory, prices will continue to fall in the future.
On gambling
Before the completion of the super factory, Tesla and the Shanghai government signed a gambling agreement: the Shanghai Super Factory will have to pay 2.23 billion yuan in taxes every year from the end of 2023. If this condition is not met, the corresponding land must be returned. . At the same time, Tesla must also invest RMB 14.08 billion in capital expenditures in the Shanghai plant in the next five years.
A Tesla China employee said that online perceptions of annual taxation are generally wrong. It is corporate income that decides to pay taxes, but Tesla's source of income is not just selling cars. Therefore, the real winning idea of ​​this gambling agreement is to buy and enjoy new energy travel.
As we all know, the average daily driving distance and average daily driving times of a Tesla depends not only on the distance between the user and the destination, but also on the number of charging piles during the route. At present, Tesla has built about 500 super charging stations in China, which is nearly half the number of super charging stations in the United States. This number is far from enough to meet the needs of Chinese car drivers. Not only that, the layout of these domestic super charging stations is also dominated by eastern coastal cities.
Compared with the current network of super charging stations in the United States, with China's land area, at least several hundred super charging stations are needed to meet people's daily needs. Just as the gasoline cost of a petrol vehicle accounts for about 30% of the car price, a new energy vehicle also needs to spend 30% to 50% of the car price on charging.
But the problem is that for most Chinese consumers, new energy vehicles are more like "toys" or "collections" rather than the main means of transportation. This means that if Tesla wants to realize the 2.23 billion yuan tax amount in the gambling agreement, it also needs to spend a lot of money to train users.
So the problem fell once again to price reduction. Only a lower price can allow users to accept and use new energy vehicles, so as to cultivate users' travel habits, charging habits and so on.
Price cuts can also be understood as nurturing the market. Musk is very good at subsidizing the market and cultivating users. The cost of his SpaceX space transportation business is $50,000 each time, which is cheaper than a Model Y. The lower price gives users more room to try, which is the most important part of the new market. If the price of new products exceeds the purchasing power of users, then this market can be defined as an immature market, and the corresponding industry is also imperfect.
Through its price strategy, Tesla hinted that the consumer market has taken shape and that it can abandon the concept of the traditional fuel vehicle era and it is time to enjoy the embrace of new energy.